KFC's Colonel Sanders and Norm Macdonald Break the Internet
Assessing a chicken chain's viral ad game.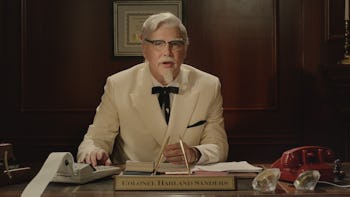 KFC
Kentucky Fried Chicken's original recipe may be age-old, but the fast-food chain's ad game is 21st century to the max. Just three months ago, KFC tapped Darrell Hammond to play a caricature of the brand's founder, Harland Sanders. And Hammond, a master of impressions, was pretty darn good:
Now, as if thunderstruck by artery-clogged hallucinations, KFC's ad men at Wieden + Kennedy have tapped Norm Macdonald to play the character they're calling "the Real Colonel." He — paraphrasing here — claims that Hammond's Colonel was an imposter. And things are getting very, very weird. Why did they do it? Were SNL alums Hammond and Macdonald in on the switch from the get-go? Is Hammond busy dusting off his Trump impression?
Whatever the motivation, the brand is getting lots of attention. And attention, itself, might just have been the motivation. Even KFC's chief marketing manager for the U.S., Kevin Hochman, acknowledges that Norm is an odd choice, saying, "Other than not quite looking like him, his voice being different, and his inability to cook the world's best chicken, we thought Norm was the perfect choice to play the Real Colonel. I think the fans will agree." Here's what it looks like when you dress a Canadian as a Kentuckian:
Macdonald's "impressions" — if that's what we're calling them — are pretty awful. But, that's what makes them so great. From repeatedly saying "Bob Dole" to reinforce the identity of the character he was playing at that very moment to manufacturing a Burt Reynolds so over-the-top that even Jack Horner wouldn't believe it, his shrug-your-shoulders send-ups are inspired. Lazy, yes, but inspired. Check out this completely tongue-in-cheek spot from the new campaign, where Norm calls out Hammond as a fake:
If it has all left you scratching your head, thinking WTF: KFC wins. The ads have already been viewed hundreds of thousands of times and #KFC has been trending on Twitter like a madman. Norm himself can't even seem to believe it.
And KFC has doubled-down — pun intended, as the company is very familiar with attention-grabs like that disgusting slob of a sandwich — on its on Twitter page. There, someone has been sending a flurry of bizarre tweets to Macdonald's fellow judge on Last Comic Standing, Roseanne Barr.
Take a bow, KFC and Wieden + Kennedy. As Norm said, it's genius. People are talking about KFC again. They're reminded that it exists. To bring up Trump again, the fast-food ad game in particular is like running for president: It's better to get attention for anything than to get no attention at all. This cycle will end soon enough and people will be onto the next thing. But, they'll probably know they can get a box full of fried bird parts from their local KFC for $5. Your move, Popeye's.