The 'Drinkable Book' Could Bring Clean Water to Millions
A single page can filter 100 liters of dirty water.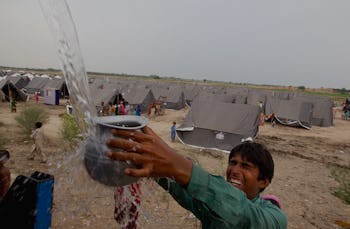 Getty
The United Nations estimates as many as 783 million people lack access to clean water, so when someone comes up with an easy, portable way to filter dirty water, that person has done a miraculous thing. Let's all give some respect to Dr. Teri Dankovich, who's "Drinkable Book" could give a person in a developing country four year's worth of filtered H20.
Dankovich, a postdoctoral researcher at Carnegie Mellon University, unveiled her invention Monday at the American Chemical Society's 250th national meeting in Boston. The book's pages are treated with silver or copper and have instructions on how to use them printed on each one. The user tears out a page, each good for about 100 liters, places it in a filter holder, then pours the dirty water through it. Roughly 99 percent of the bacteria will be screened out by the page's silver and copper ions. That makes it about as safe as the average American's tap water.
While it has yet to be tested on removing viruses, Time reports that the book has been successful in field tests in Bangladesh, Ghana, and South Africa.
"We need to get it into people's hands to see more of what the effects are going to be," Dankovich told GBC Ghana. "There's only so much you can do when you're a scientist on your own."