10 Essential Kanye West B-Sides
West's best that didn't make the albums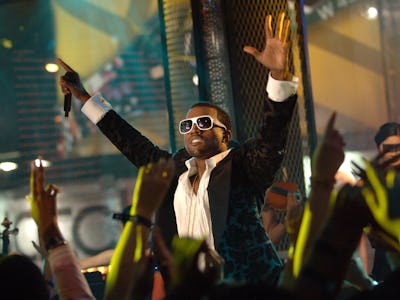 Brad Barket/Getty Images
Kanye West's SWISH is still in album purgatory, likely because he wants it to be perfect and it's quite possible that it's bad right now. West doesn't release bad music. He refuses. That means that plenty of good songs have been thrown by the wayside because they weren't good enough. They're still pretty great, though. Here are 10 essential Kanye West b-sides and deep cuts.
1. "Heavy Hitters" (2004)
"Heavy Hitters" is the first true Kanye West B-side, meaning it's the first non-album track he put on his singles. The song appeared on the All Falls Down and Jesus Walks singles (and The New Workout Plan in Europe). Built on a gentle piano loop, West sounds like a veteran calling for everyone to throw up the Roc-a-Fella hands, something we'd hear again on Diamonds from Sierra Leone.
2. "Wack Niggaz" (2004)
Recently re-released on Talib Kweli's rarities and B-sides compilation, Train of Thought, "Wack Niggaz" is a prime example of West repurposing his own lyrics. He tried out multiple versions, too, with the song first appearing on Kweli's The Beautiful Mix CD in 2004. Several lines from that version, including, "Your girl don't like me, how long she been gay? / Spanish girls tell ya, 'No hable ingle,'" eventually made it onto 2005's Late Registration cut "Bring Me Down." A second version with a modified verse appeared on West's questionably official 2005 Freshmen Adjustment mixtape. West is a perfectionist, tinkering endlessly even before he was the biggest rockstar in the world.
3. "Keep the Receipt" (2005)
West's collab with the Ol' Dirty Bastard (then trying out his Dirt McGirt moniker) was supposed to be on The College Dropout, but was left off the final tracklist, instead inspiring two West greats: "Get Em High" and "Stronger." West repurposed ODB's "We don't wanna hear that weak shit no mo'!" flow on the former, while Dirty's "Do anybody else make hits anymore?" was adjusted to "real shit" for West's Daft Punk-assisted Graduation megahit.
4. "Pusha Man" (2005)
Chance the Rapper's "Pusha Man" more directly draws from Curtis Mayfield's "Pusherman," but it's likely the young Kanye worshipper knew about West's track with Chicago hero Bump J. Legal troubles kept Bump J from ever releasing the track, but West still goes in, rapping about being called "Kayne," among other things.
5. "Back Like That (Remix)" (2006)
Prior to Twisted Fantasy-era songs with Raekwon and RZA, West collaborated surprisingly little with Wu-Tang Clan. His own soul sampling takes inspiration from RZA's, so it makes sense that West eventually got on a track with the Wu. With Ghostface Killah, he sounds right at home over the lush soul production. He's got some terrific time-specific pop culture references, too, alluding to Ne-Yo's "So Sick" and punning on Shaq-Kobe beef.
6. "The Good, the Bad, the Ugly" (2007)
Consequence is among West's many "coulda been" GOOD music artists. He released just one album on GOOD, Don't Quit Your Day Job!, which included the West-featuring "The Good, the Bad, the Ugly." On his verse, West revisits one of his favorite subjects: the relationship that's great but doomed from the start and, as with Cons, he's left wondering what could've been.
7. "Stay Up! (Viagra)" (2008)
A breezy track, West's collaboration with 88-Keys is notable for two reasons: He dresses up as an old man in the video and meets Pete Wentz. And he offers advice on how to last longer during sex: think about Kim Kardashian (to whom he's now married).
8. "Christian Dior Denim Flow" (2010)
"Christian Dior Denim Flow" is the preeminent track from West's GOOD Fridays promotional campaign for My Beautiful Dark Twisted Fantasy. Just weeks before its release, West debuted "Runaway" at the VMAs with Pusha T, inspiring Push's verse about his "salmon-colored suit:" "Oh, you was watching? Who the fuck wasn't."
9. "Don't Look Down" (2010)
Released near the end of GOOD Fridays, "Don't Look Down" anticipated West's epic Runaway short film with phoenix and flight imagery. The Auto-Tune vocal breakdown mirrored "Runaway"'s robo-voice-as-instrument technique. Most importantly, Big Sean spits the greatest verse of his career to close the song.
10. "White Dress" (2012)
Kanye West one-offs have become increasingly rare in the 2010s. His contribution to the RZA & Quentin Tarantino's The Man With the Iron Fists is vintage soul-sampling Kanye. In 2012, West released Cruel Summer, which included forward-thinking hits "Mercy," "Cold," and "Clique." "White Dress" was a welcomed return for old heads and College Dropout purists.