Seiichi Miyake: How His Innovative Design Helped the Visually Impaired
The tactile blocks enable more to safely use the roads.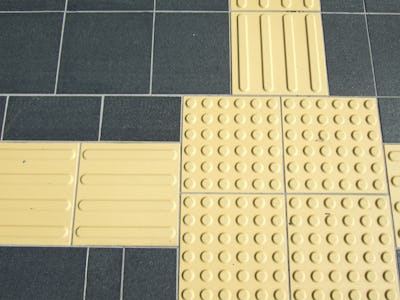 Wikimedia Commons
Google paid tribute to Seiichi Miyake on Monday, a Japanese inventor that developed a system of tactile blocks for helping people to cross the road. The world's largest search engine commemorated the creation with a homepage doodle, marking the first day his blocks made their debut.
Miyake was inspired to help a friend who was gradually losing their vision. He created the "Tenji blocks" — taking its name from the Japanese term for the language's braille script — to help provide information to users through feeling raised bumps around five millimeters high in their shoes, tapping a cane, or through a trained guide dog. The dotted style indicates danger ahead while the direction of the bars indicate a safe path of travel. Miyake's creation first debuted in 1967 near the Okayama School for the Blind in Okayama City, Japan. The design gradually rose in popularity until 1975, when the Japanese National Railways mandated their use at platforms.
See more: World Wide Web Google Doodle Honoree Has a Warning for the Future
The blocks have grown into an iconic design, used in areas like crosswalks and subway stations around the world. The United Kingdom and the United States both adopted their use in the 1990s, the latter with the passing of the Americans with Disabilities Act. Its design has grown so commonplace that a tile is held in London's Victoria and Albert Museum, produced by the same firm Miyake founded in 1974 to produce the tiles. Unlike the originals that were cast in cement, the version produced in 2016 was made from polyurethane.
The color of the blocks has caused controversy over the years. While a luminous design can help partially sighted people better identify the blocks, a jarring color that sticks out from the surrounding area can disrupt the intended design. Researchers at Tokyo Metropolitan University and Nippon Road Company found in 2000 that designers should use Tenji blocks with sufficient difference in luminance to aid the partially sighted, even if that means making the blocks darker to increase the ratio while ensuring the difference in hue compared to other blocks is as small as possible. This compromise has been shown to result in visually pleasing designs that still help the partially sighted.
It's not the first time Google has praised an impressive invention. The site has previously paid tribute to the hole punch, the pH chemistry scale, and the super-accurate pendulum clock.
Next time you're at the crossing, don't forget to feel for this iconic creation.