Kim Dotcom's 'Artist-Friendly' Music Streaming Service Baboom Launches
The Megaupload founder left the company last year, but the service soldiered on.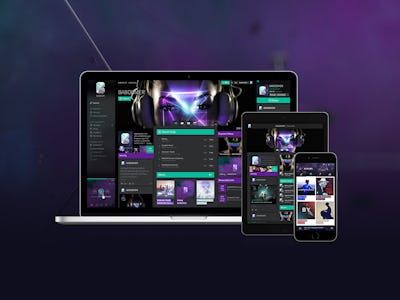 Baboom.com
The artist-friendly music streaming site started by Megaupload founder and all around internet ninja Kim Dotcom launched on Monday, but don't expect to find any major label artists to listen to or any publicity about it from Dotcom himself. Called Baboom, the company embraces a "fair trade streaming" model that allows independent artist to keep 90 percent of per-stream proceeds. It's an underground club to Spotify's stadium or Tidal's crumbling stadium.
According to the official company announcement, "Fair Trade Streaming offers the artist full visibility of payments from streaming, unlike traditional methods where all revenue goes into a pot and is distributed to the artists who are most popular. Fair Trade Streaming ensure subscription fees go from the fan to the artists they stream."
Dotcom first announced the streaming service in 2011 under the name "Megabox" before his other, more notorious, file-sharing site Megaupload was shut down by the FBI in early 2012. After beta-testing it in 2014, Dotcom left the company citing irreconcileable differences with the corporate leaders. "Goodbye @Baboom," he said in a tweet. "I was holding u back. The music industry hates me. You'll do better without me. Good luck my love."
The Dotcom-less Baboom soldiered on and is now attempting to be an alternative to other streaming choices. But without the high profile launch titles that came to define Tidal or Apple Music, there isn't much to start with. Users must simply search around for a limited amount of random artists and hope they come across one they know; otherwise, it's just a musical crapshoot. But you can also upload your existing music collection, and at least the artists on Baboom are getting more of the revenue, which seems to be the only detail setting it apart.
The site offers users a two-tiered service available on iOS and Android, as well as a web app. The free version includes ad-supported streaming and a "personal locker" to create playlists of up to 100 songs. The ad-free premium option costs $10 per month and allows users to add an unlimited number of songs to their collection and have access to exclusive content.
In the crowd of streaming music sites, Baboom stands out as an oddball. Its limited list of launch songs, its relative obscurity, and its Dotcom-iness are all unique. But that isn't necessarily a bad thing. Tidal had a lot of ingredients — notably a bunch of famous pushers and a decent catalogue — and it failed miserably. What's absolutely clear is that Baboom represents a positive development for less-known artists looking to get their work into the limelight. It may not be the place most consumers go to listen to music, but it may well become a way to find something new.