Rolex Sponsorship Makes the Vertical Ship and Lab SeaOrbiter Plausible
French underwater architect Jacques Rogueries may have built up the ultimate exploration machine.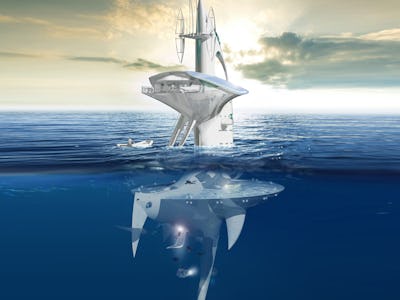 The internet is thick with concept art. There are images of movies that won't get made, buildings that won't get made, and planes that won't get made. Now, a memorable viral rendering of a boat may become more than an illustration. Rolex has backed the creation of Jacques Rogueries' vertical ship SeaOrbiter. The towering vessel is essentially a marine motor home that could become a valuable station for aquanauts studying oceanic ecosystems around the globe. The $35 million price tag is far from negligible, but big watch money, backing from National Geographic and NASA, and crowdfunding may make a Jules Verne-inspired marine architect's dream come true.
Rogueries is an underwater specialist best known for designing ways to peer into the deep. He is the man behind Aquabulle midwater shelter, the Galathee underwater house, and the Aquaspace transparent trimaran. His work looks straight out of The Abyss, but his focus has always been engineering a sustainable underwater environment for humans. If built, the SeaOrbiter will be his masterpiece: an innerspace ship capable of serving as a laboratory, space simulator, and base, as well as a communications platform capable of broadcasting its own work.
The idea is to create something both practical — pressurized living quarters will allow NASA to do biological work — and inspirational. Like the National Oceanic and Atmospheric Administrations Ocean Explorer, it will stream information and images to the public constantly.
Well, that's the idea anyway.
In order to do all of these things, the SeaOrbiter will have to exist, and Rolex, which worked closely with Jacques Cousteau and rose to prominence on the back of its waterproof Oyster wristwatch, is as good a sponsor as any. Hopefully, someone at headquarters back in Switzerland really liked SeaQuest.