Victor Frankenstein Is Alive and Sweaty in New Movie Trailer
And he seems completely insane.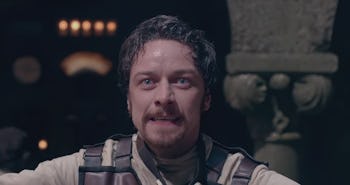 YouTube
Are any fictional characters as enduring as Frankenstein and his monster? The numbers say no. There are at least 76 Frankenstein movies out there and at least one more blockbuster to come. The trailer for the latest take, starring James McAvoy as Victor Frankenstein and Daniel Radcliffe as Igor, just hit and it looks closer to Re-Animator than Transylvania 6-5000 — so here's hoping they ride the lighting with this one.
Despite its title, Victor Frankenstein is told from the perspective of Igor, who is hump-free but still burdened by a terrible haircut. It is the assistant who watches his master play God and closely observes the horrific results. Body parts twitch and godless creations growl as old Doors music plays in the background and McAvoy chews the steampunk scenery. Judging by what little footage we get here, this Frankenstein seems a lot less troubled about his work than Mary Shelley's doctor came to be. He looks like he's having fun.
Sadly, this film is not part of that shared cinematic monsterverse Universal Pictures tried to start with Dracula Untold. This effort is a one-off, so don't get too excited about seeing Professor X square off against the bloodthirsty undead any time soon. Dude has his own problems to worry about.