Best CBD Treats for Your Dog
Why should you have all the relaxation?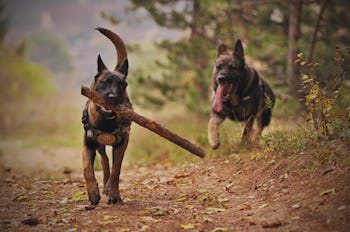 Jozef Fehér, Pexels
CBD foods and treats aren't just for humans—now your furry best friend can enjoy them as well.
Watching your dog struggle with pain or emotional distress can make us feel helpless. If only dogs could directly communicate with us and let us know exactly what's wrong.
But CBD dog treats may be a way to help them live a more comfortable life. While we'd love to see more studies on how CBD really affects humans and dogs alike, there's a lot of anecdotal evidence to support the idea that CBD treats can work as a painkiller, anti-inflammatory, anti-convulsant, stress reliever, anti-cancer-treatment side effects, and anti-emetic. And we're always willing to do pretty much anything to help our pups.
So what are the best treats to give man's best friend? Read on for a few suggestions.
For an overstimulated pup who is dealing with anxiety—whether that comes following a big move, time spent in a shelter, or is triggered by loud noises—these soft chews can help the dog channel some inner peace. If there are particular situations that cause your dog to become stressed or anxious (say, a long road trip or a thunderstorm), you can give them one of these Calming Bites beforehand so that they'll be able to deal with what would otherwise set them on edge, which can ultimately put them on a path toward healing.
These health chews can also be used to relieve joint pain in older dogs or pets that have a chronic injury. The formula behind Moe's Happy Hemp Calming Bites gives your dog healthier skin, a glimmering coat, and stronger nails, too.
Many dogs experience hip and joint pain, especially as they grow older. With glucosamine, turmeric, and hemp in these treats, they can help bring a bit of the puppy back in an older dog by reducing joint inflammation and pain. Combined with hemp, these ingredients work together to relieve arthritis pain and give your dog increased mobility.
These all-natural snacks have high-active ingredient counts, which means you get more bang for your buck (aka less pain for a longer period of time). Plus, dogs love the taste of these duck-flavored chews so you don't have to hide any liquids or pills in your pet's food any longer to give them pain relief.
Plus, PetHonesty donates proceeds to two different nonprofits: one that protects animals and another that trains dogs to help people with learning disabilities and those dealing with PTSD. What could be better than that?
Remember those commercials of dogs losing their minds for Beggin' Strips and their bacon flavoring? Well, CeeBeeDoo has bacon-flavored treats—and much, much more.
These small (kind of adorable) steaks will help your stressed out doggo. With so many flavor options available, you can do a bunch of trial and error to find your dog's favorite type of CeeBeeDoo treat, whether that's turkey jerky, beef and rice, BBQ kabob, cheese wraps, or the classic doggy bacon. And they come in different shapes that look like small steaks, bacon strips, or meatballs, depending on the flavor your buy (not that your dog will necessarily notice).
Great for small and large dogs alike, these treats can help reduce anxiety, stress, and pain without any paranoia since the treats are all free of THC.
Whether your dog is afraid of thunderstorms and fireworks or even loud noises on a smaller scale like vacuums, these tasty treats will help keep your dog's anxiety at bay. They're also great at calming dogs who experience hyperactivity and aggressive tendencies. If your dog has trouble with loud noises, these treats can help ease their nerves.
Nicole Ortiz is a seasoned writer and editor based in Brooklyn, NY. You can see samples of her work on her portfolio, and follow her on Twitter.