9 Practical Items to Make Your Apartment More Adult
Just a couple updates can be a serious improvement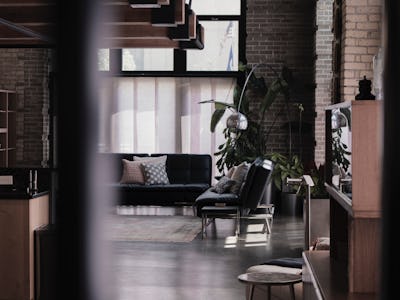 Unsplash
You're in your mid-to-late 20s and you're finally hitting your stride career-wise, but the contents of your apartment make it look like you're still in college. Sure, you'll want to hang onto a few items that bring back some great late-night memories, but at this point, it's time to invest in a few new items that are more practical and sophisticated. If you know it's time for a change, these handpicked, high-quality items will help you make the most of your space and transform your home into a better reflection of who you are today.
1. Integrated USB Armchair That Doesn't Look Like It Came From Your Dorm
We're willing to guess that one of the first thoughts you had prior to moving into your new digs was, Where am I going to sit? Even if you're moving into a place that's already equipped with a couch and coffee table, any space can benefit from a high-quality armchair. They're great in the living room when you need more seats for company, and perfect in the bedroom when you want a quiet place to read (or just someplace to throw your clothing that isn't the floor). This chair from Huckberry is stylish, comfortable, and comes with a hidden, built-in USB charger, so you can chill and juice up your gadgets without missing a beat.
Ever open up someone's kitchen cabinets and witness some ridiculous combination of pint glasses, plastic tumblers, and mason jars? It's cool if you're into that kind of thing, but if you're looking to level up to adulting status, you should probably get real, matching glassware. A set of four or eight quality matching glasses is effortlessly elegant and gives off the illusion that you have your stuff together way more than you actually do.
3. Lighting That Makes a Statement
Good lighting can make or break the atmosphere in any apartment. Not enough light, and you feel like you're in a cave, too much light, and suddenly, you're trapped in a medical lab. One of the best ways to find that sweet spot is to purchase a couple of statement lamps. Interesting lighting fixtures can help you customize exactly how much light you want in your home, while also contributing to your overall design vision. We love this funky Edison bulb table lamp that would be perfect either on your desk or on a side table by the couch.
Even if you don't get the chance to cook for yourself very often, there will come a time when you want to impress your friends (or a date). In order to get the job done right, you'll need some quality knives. No, we're not talking about some $15 knife from Walmart or the kitchen accessories section of the grocery store, we mean a real set of actual, quality knives. That being said, you also don't have to drop $300 at William Sonoma to get a functional product, these Japanese damascus steel chef knives will get any job done without breaking the bank.
5. Dutch oven and cast iron skillet
If you're stocking your kitchen and trying to figure out what items will be the most versatile, look no further than this set right here. The quintessential dutch oven (go ahead and get it out of your system) can be used to cook soups, stews, sauces, bread, large cuts of meat, and all kinds of one pot meals. The cast iron skillet has a bit of a learning curve when it comes to maintenance, but once you get used to it, the possibilities are endless. It's especially great for searing meat and making all kinds of eggs.
Whether you're into coffee, tea, or instant oatmeal, a quick-boiling electric kettle is a no-brainer when it comes essentials in the kitchen. There's nothing wrong with opting for a more standard spout, but a gooseneck kettle will give you a more precise pour, which is great if you're into pour-over coffee. Either way, this elegant matte black gooseneck kettle will look great on your countertop.
A high quality throw blanket is one of the easiest ways to give your home an instant boost of sophistication. Not only are they super cozy and perfect for cuddling during chillier months, a really nice throw blanket can add more color and texture to any space, thereby making your couch that much more inviting.
Maybe you've already got your stereo and turntable hooked up for regular listening parties, in which case, bravo. But if you're like most people who haven't quite reached audiophile status and are still playing music from a laptop, then this one's for you. You don't have to drop a fortune to improve your home listening situation, all you need is something that will fill your space with high quality sound. Check out these bookshelf speakers from Edifier that are both stylish and Bluetooth compatible to boot.
If you live in a city, odds are your apartment is pretty small and doesn't have nearly enough storage space. This is where the bookshelf becomes your best friend. Whether you have books, plants, or just a lot of knickknacks you want to display, a vertical standing bookshelf can solve all kinds of problems while enhancing the aesthetic of your home.