Google Doodle Honors Zaha Hadid: Here Are 5 of Her Most Iconic Buildings
"I really believe in the idea of the future."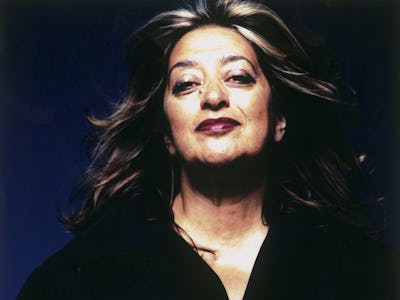 Steve Double
Google celebrated International Women's Day with an interactive Doodle slideshow featuring quotes from 13 pioneering women on Friday, including one honoring the Iraqi-born British architect Zaha Hadid. Each slide paired some of the subject's most famous words with a complementary graphical design.
Hadid's structures have become fixtures in some of the world's most iconic skylines. Her panel highlights how she cast aside traditional design techniques to create her own style of architectural geometry:
"I really believe in the idea of the future," she once said.
The star-studded architect was the first women to receive the coveted Pritzker Architecture Prize in 2004. In February 2016 she once again broke new ground, becoming the first woman to be awarded the Royal Gold Medal for architecture from the Royal Institute of British Architects.
Months later, Hadid abruptly died of a heart attack at age 65 after having contracted bronchitis. Her storied career leaves behind a legacy that has since galvanized women and architects alike to question the status quo and leave their mark on the world. Here are 5 of her most iconic buildings.
5. London Aquatics Center in the United Kingdom
Hadid was described as the "Queen of the Curve," by The Guardian in 2016, and the London Aquatics Center is a perfect example of her swooping style. The facility was finished in mid 2011 and was one of the main venues for the London 2012 Olympics.
Its facade features two wings that are akin to a parting sea or undulating waves. Hadid's online portfolio describes that she was inspired by the nearby Waterworks River when she was sketching her designs.
"A concept inspired by the fluid geometry of water in motion, creating spaces and a surrounding environment in sympathy with the river landscape of the Olympic Park," states the building's description.
4. Eli and Edythe Broad at Museum in Michigan
Hadid's work is said to have reshaped architectural geometry into shapes that have never been seen before. The New York Times stated that she "elevated uncertainty to an art," which perfectly encompasses the look of Michigan State University's Broad Art Museum.
The architect was selected to create the museum after winning a design competition in 2008 and it was finished in 2012. Its ribbed exterior gives the illusion that it's moving, giving onlookers a different view of its shape depending on their perspective.
"Echoing and extending the many circulatory and visual connections that define its surrounding topography," says Hadid's site. "The museum…[produces] a structure that changes as visitors move past and through it — creating great curiosity yet never fully revealing its content."
3. Guangzhou Opera House in China
The architect's work melds together perfectly with surrounding structures, while also maintaining her own personal touch. The Wall Street Journal wrote her projects convey a sense of "prestige and cosmopolitan flair." None of her structures embody that description more than the Guangzhou Opera House.
The theatre has roughly 764,238 square-feet of floor space making it the biggest performing center in southern China. Hadid won an international architectural competition in 2002 with her "double pebble" design that made the structure seem like two stones facing each other. It was inaugurated in 2010.
"Its contoured profile, unique twin boulder design and approach promenade enhances urban function, opens access to the riverside and dock areas and creates a new dialogue with the emerging town," describes Hadid's website.
2. Port Authority Building in Belgium
This was the only government building Hadid ever designed in her career. Where many government buildings try to be stern and serious, Hadid's design resembles the hull of a glass ship perched atop a white concrete base.
Hadid's site explains that it consolidated multiple buildings into a single facility to help collaboration between the port authority, or Havenhuis, in Antwerp, Belgium. It opened the same year Hadid died, and the square it faces was renamed to Zaha Hadidplein (Zaha Hadidsquare), in her honor.
"[It] repurposes, renovate, and extends a derelict fire station into a new headquarters for the port — bringing together the port's 500 staff that perviously worked in separate buildings around the city," her site states.
1. Beijing Daxing International Airport in China (Under Construction)
Several of Hadid's buildings remain unfinished, the most impressive of which is the Beijing Daxing International Airport which will house a 7,534,737 square-foot terminal building and a 861,112 square-foot ground transportation center.
The facility is expected to be finished in 2025. Once opened, it will be able to accommodate 72 million passengers per year, and there are expansion plans to give it a final capacity of up to 100 million yearly passengers.
Its 3D renders depict a structure in the shape of a curved star, a shining reminder of the her unique style.