'Jurassic World' Director Colin Trevorrow Gets 'Star Wars: Episode IX' Next
Not bad for his fifth time in the director's seat.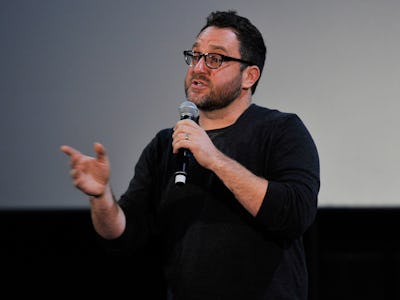 Getty Images
After being plucked from relative obscurity to direct what's now the third-highest grossing movie of all time with Jurassic World, director Colin Trevorrow will next make the jump to the galaxy far, far away.
At the Disney D23 Expo over the weekend, Walt Disney Studios Chairman Alan Horn announced that Trevorrow will direct Star Wars: Episode IX, to be released in 2019. Trevorrow's involvement in the last scheduled canon Star Wars movie has been rumored for months. Heroic Hollywood appears to have gotten the scoop in July, but Disney didn't confirm it then.
Three years ago this kind of move would have been impossible. Trevorrow broke onto the indie scene in 2012 with the modest Sundance comedy hit Safety Not Guaranteed. That picking a guy on such a rapid ascent is suddenly not seen as a gamble speaks to his success. "Colin is someone I've been interested in working with ever since I saw Safety Not Guaranteed," Lucasfilm President Kathleen Kennedy said in a statement. "The power of that film paired with the enormous success of Jurassic World speaks volumes about his abilities both as a storyteller and skilled filmmaker. We are thrilled to have such an incredible talent as Colin join our family and step into the Star Wars universe."
Trevorrow's Jurassic Park sequel has pulled in some serious bank so far and in retrospect could now be seen as an important dry run for Star Wars. JW was produced by Frank Marshall, Kennedy's husband, and was a continuation of one of director Steven Spielberg's best-known movies. Though Spielberg has never been directly involved in Star Wars, the bearded one is longtime producing partners were Marshall and Kennedy, and it doesn't hurt that one of his best bros is former Star Wars head honcho, George Lucas.
Though the movie is still four years away, with J.J. Abrams's The Force Awakens set to drop in December and director Rian Johnson's untitled Episode VIII set for release in 2017, Trevorrow won't have any trouble rehashing nostalgia like he did for Jurassic World. In fact, he could just rehash a lot of Jurassic World for the new Star Wars movie, but put it in space.
Chris Pratt's character is Han Solo. Bryce Dallas Howard's character is Leia. Throw in a few complications from an out-of-control baddie like the Indominus Rex. Pepper in some people in distress like the hapless park-goers, and you'll see where we're going for the basis of the next gigantic blockbuster. Trevorrow will next direct the smaller-scale drama Book of Henry before jumping into hyperspace with Star Wars.