'The Strain' Recap: What the Eph Was the Point of That?
Eph has an affair to remember.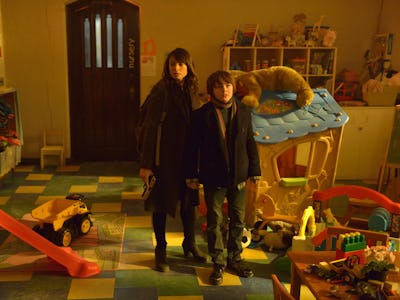 FX Networks
"Who are you?" It's a simple question with profound repercussions and it's at the heart of this week's episode of The Strain. But, before we get there, lets first acknowledge that this episode is season two's weakest. Though The Strain has demonstrated improvement in its storytelling, "Identity" felt scabbed over with boring exposition and poor dialogue.
This week really belongs to Eph, who got asked the big question and kind of left us hanging. Like a family man on a work vacation, Eph connects with his close friend Robert in D.C. and enters a professional and personal relationship with Lee Thomas, a pharmaceutical rep. All this happens while his son and the woman he cheated with are being hunted by his vampire ex-wife (more on that later).
Maybe Eph needed to unwind after being assaulted on a train, or maybe he just wants to enjoy the apocalypse: No matter his reason, Eph has become unrecognizable. He's a good-hearted person, but also a total asshole who puts others in danger. The plague has given him purpose, but Eph isn't exactly laser focussed. Distance from the Strigoi makes everyone think of New York as a ghastly madhouse, which is kind of the case in reality too, and that lulls Eph. He lets his guard down, and pays for it when the hired gun from Stoneheart Group puts a few bullets in Robert and Lee.
Eph's answer to "Who are you?" should be "I'm an insufferable asshole who is only any kind of useful when tons of shit has gotten into a bunch of fans." Though it's a profound revelation, it weighs this thing down by making significant moments feel less important.
But Eph isn't alone. Angel, a non-metaphorical wrestler, holds on to his faded strength while grappling with his relationship to Aanya, something about his bum leg and fate, generally. Somehow Gus has been allowed to hang out at the restaurant, and he eggs Angel into admitting his Silver Angel past. Turning the tables, Angel forces Gus to admit his own checkered past and his failure as a son to his beloved mother. Meanwhile, Aanya is torn between her personal pursuit of happiness and the career (read: person) her overbearing parents want for her.
That sounds lovely and heartfelt, but this is The Strain and not enough Strain-y things are happening. (Here we go!) Zack, who has developed asthma for some reason, is finally cornered with Martinez by his mom and her spider kids. But the whole time, Zack doesn't recognize her and when the calvary of Fet, Fitzwilliam, and Setrakian (Dutch is MIA) arrive the tension is gone. It will be yet another goddamn week before this story pays off.
Meanwhile, Quinlan has made his way into New York, aided by a mysterious friend. Book readers are excited for him, as am I even though I haven't read a single page. I like his sword.
A last bit of crisis strikes, of all people, Eichorst. The loyal servant for decades — a whole century for all we know — has been overturned for a promotion as the Master's vessel. Boliviar, the trashy prog metal star, is the new Master's shell. But seeing Eichorst, eyes wide and mouth agape, was a nice, almost emotional moment (I say almost, because he's a goddamn Nazi). It was a moment of waste, of hard work unrecognized and unpaid. Eichorst has so long been associated with the Master that, for the few seconds he laid there on the floor, I believed he might flip out and turn against him. That was exciting. But that also isn't going to happen, so lesson learned: Life sucks and you don't get what you want.