The Best Nintendo Switch Cases for Travel
Protect your Nintendo Switch with these carrying cases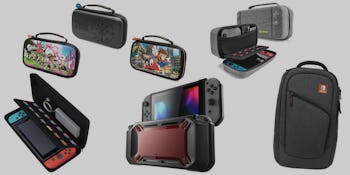 Games like The Legend of Zelda: Breath of the Wild, Super Mario Odyssey, and Super Smash Bros. Ultimate have helped the Nintendo Switch become a big success. The great games aren't the only reason why people love this console, though. The other main contributor to the Switch's popularity is its portability.
The freedom to play full console games whenever and wherever you want is something all gamers have dreamed of. Thanks to Switch being uniquely designed to be played at home or on the go, this dream has finally become a reality. However, this newfound freedom creates a brand-new problem—wear and tear from traveling.
The Switch is amazing in many ways, but it is not exactly the most durable product ever made. You'll want to protect your system from the danger of drops, scratches, and cracks with a carrying case. Here, we've listed some of the best travel cases you can find for the Switch.
Mumba Rugged Case
Price: $18
Perfect for anyone who wants a protective case that also gives them quick access to their Switch. This case has a scratch-resistant polycarbonate back cover, shock-resistant bumper, and an ergonomic design to improve your grip. Basically, it's built to handle whatever you throw at it.
ProCase Carrying Case
Price: ($17)
If you want to travel in style with your Switch, you might like the ProCase Carrying Case. This carrying case is made with premium quality durable felt with a soft microfiber lining. On the inside, this case is designed to hold up to five game cartridges in addition to your console. Comes in grey, pink, or blue.
amCase Nintendo Switch Hard Carrying Case
Price: $12
While not the flashiest carrying case, it gets the job done. The amCase surrounds your Switch in a hard shell, protecting the system from scrapes and drops. Its most notable feature is its carrying capacity. Most other cases are made to carry somewhere between five to 10 cartridges, but the amCase is able to hold 14.
Nintendo Switch Game Traveler Deluxe System Case
Price: $35
This case is made by RDS Industries, who boasts the title of the number one Nintendo Licensed Switch case manufacturer nationwide. The exterior is a hard shell made with a ballistic nylon material. It also comes with a comfortable handle for easy carrying. The inside provides enough room for your console, games, dock, and more.
PowerA Everywhere Messenger Bag
Price: $38
The perfect choice for anyone who wants to not only bring their Switch with them, but also anything else they could possibly need. This messenger bag comes with its own case and a dedicated pouch for the Switch. The case is pretty basic, but it provides extra protection if you want it. Although there are no game cartridge slots, you likely won't have a problem finding space to put your physical copies.
Zelda Sheikah Eye Carrying Case
Price: $20
Designed with Legend of Zelda: Breath of the Wild fans in mind, this carrying case comes with enough room for your Switch and up to eight games. Comes with two hard multi-game cases, each able to keep four cartridges secure. The case comes in either ballistic nylon or leather.
Smatree Hard Carrying Case
Price: $46
If you need a carrying case that is heavy duty and ultra sturdy, this is the case you'll want. On the inside, there are six compartments that snugly fit the Switch, the dock, power adapter, joy-con grip, pro controller, and an extra controller. It also has a pocket for your cords and flap with 16 slots for your games.
Super Mario Deluxe Travel Carrying Case
Price: $16
Can't get enough of Nintendo's lovable mascot? Then you'll like this red with blue suspenders carrying case. Made by Hometty, this case is lightweight, durable, and waterproof. The inside of the case uses a soft, shock-resistant foam to protect your Switch from drops. Capable of holding your console, eight games, and a few accessories.
Nintendo Switch Elite Player Backpack
Price: $32
This backpack doubles as a carrying case for the Nintendo Switch. Offering various compartments and pockets, you won't have to worry about running out of room for all of your devices. The padded straps make transporting this bag easy and comfortable.