Wave Machine Makes Surfing a Better Spectator Sport
Featuring the world's first public artificial wave pool.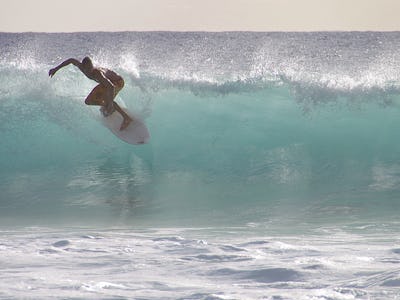 www.flickr.com/photos/jean-marc_astesana
Red Bull, the early adopter in the potentially suicidal activities space, is putting together the world's first stadium surfing contest. And, no, those Austrian maniacs aren't building a floating arena. They are using a new technology that creates startling powerful waves in startling small spaces. That's why the tournament is being held in Dolgarrog, Wales at Surf Snowdonia, a park featuring the world's first artificial wave pool meant for public use.
The pool, called the "Wavegarden", is an over 900-foot manmade lagoon featuring two lanes for surfers to shred at the same time. It can also perfectly regulate the size and speed of the wave to fit beginners and pros alike, making mini ripples just over a foot high, to massive tubes that curl 6 feet in the air.
To create each wave, the Wavegarden uses hydrodynamic "Wavefoil" technology to quickly push a mass of water over the surface of the lagoon to produce natural breaks along both paths. The length of each wave is only limited by the size of the pool, so riders could ostensibly stay on a wave for all 900 feet.
It's this tech that will allow two surfers in the competition to go head-to-head in what Red Bull describes as a series of surfer vs. surfer duals that are "themed on medieval jousting tournaments." Your guess is as good as ours about what exactly that means, but it sounds awesome nonetheless. 24 hand selected surfers will face each other in best-of-five-style qualifying runs to determine who is the ultimate fake wave surfer.
The Surf Snowdonia stadium is outfitted for 2,500 fans, and entry level tickets cost £8. Don't forget your board.