Virgin Galactic's Historic Flight: What Exactly Is Happening in This Photo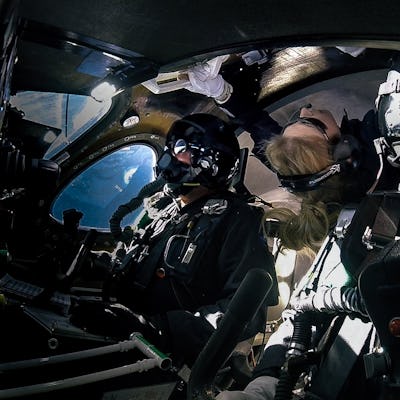 Virgin Galactic
Virgin Galactic reached a new milestone last week, as its latest flight to the upper atmosphere marked the first time a woman flew in space on a commercial ship.
A photo posted on Twitter afterward captures what it was like inside the cabin ofVSS Unity as one of its three crew members experiences the wonder of zero gravity — another first for commercial space travel.
The VSS Unity depicted in the photo broke new ground by flying higher than ever before at an apogee of 295,007 feet, as well as faster before with a speed of Mach 3.04. This is only the second flight for the ship that reached space.
Chief pilot Dave Mackay and co-pilot Michael "Sooch" Masucci, pictured in front with the masks, became the 569th and 570th humans in space, with Mackay the first Scottish-born astronaut. Beth Moses, the firm's chief astronaut instructor pictured in the rear, became the 571st person in space. Moses also set the record as the first non-pilot went to space in a commercial spaceship. The team's record-setting journey was captured in a startling photo, with a thin shimmer of light illuminating its passengers as they break through in more ways than one.
It's a big step forward for Virgin Galactic, the Richard Branson-owned outfit that's working to develop a private commercial spaceflight service with tickets estimated to cost $250,000 for a 90-minute trip.
The vehicle took off from Mojave, California, shooting up before entering a period of several minutes of weightlessness. Outside the window in the photo, viewers can see the Earth rushing past below. During this several-minute period of weightlessness, Moses exited her seat to test evaluation points around the cabin, in the process making history as the first person to float without restraints on a commercial aircraft.
"Beth, Sooch and I just enjoyed a pretty amazing flight which was beyond anything any of us has ever experienced," Mackay said in a statement. "It was thrilling yet smooth and nicely controlled throughout with a view at the top, of the Earth from space, which exceeded all our expectations."
Human spaceflight is a major goal for commercial space outfits, a number of which are working to send people to space over the next few months. Elon Musk's SpaceX, which has never sent a human to space, is preparing for the first test flight of the Crew Dragon designed to transport humans to and from the International Space Station. The team is competing against Boeing, which has developed the CST-100 for the same purpose.
The breakthrough could mean humanity exploring further than ever, and even the birth of a new space-bound economy. Little wonder that Rick Tumlinson, co-founder of investment firm SpaceFund, described the development of 100-person spaceships to Inverse as "the beginning of the biggest revolution in the history of humanity."