Here's How to Get a Better Night's Sleep With One New Pillow 
It's time to stop tossing and turning thanks to this brand new pillow that's about to give you the best sleep yet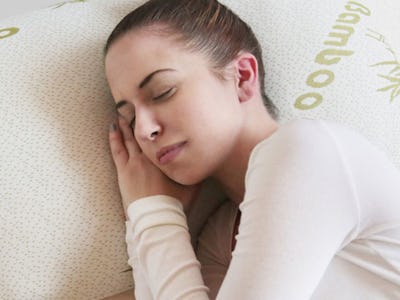 Luxury Linens
Whenever we think of a rest and relaxation, we think of snuggling up with our duvet and wrapping our arms around our comfy pillows (and maybe the spa). We cherish our beds whether they are for a good night's sleep or even for a solid cat nap. We also tend to blame our neck and shoulder pain on other sources because how could our pillows betray us, right? The truth has come out that our pillows may be doing more harm than good unfortunately. Luckily, this Bamboo Memory Foam Pillow has solved many of our next morning aches and even allergies.
You probably have heard and tried a ton of different memory foam pillows and realized that the hype isn't as good as it was made up to be. However, the hype actually is real when you find the right pillow that actually does the job. The Bamboo Memory Foam Pillow was not just designed for comfort but also specifically made to support your head and shoulders throughout the night. The secret behind this is that the pillow actually has pressure-relieving foam that serves as the backbone to pain relief and a sweeter nights sleep. That's not all though…
The Bamboo Memory Foam Pillow is not just made to relieve pressure but also serves as an cooling hypoallergenic agent as it's infused with aloe vera. Aloe Vera has many benefits and one of them is that it's a natural disinfectant. Sleeping on a dirty pillow isn't ideal and who would have thought that a pillow could be a disinfected naturally? As Aloe Vera serves as the disinfectant and antimicrobial and you're also someone who suffers from the slightest allergent, the Bamboo Memory Foam Pillow was absolutely made for you. Bonus: It's completely washer and dryer friendly. As The Bamboo Memory Foam Pillow comes in both a queen and king sizes, there is no reason why this luxury pillow won't blend in with your current bedroom setup!