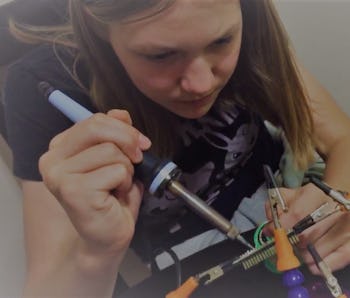 Science
Teen Inventor Allie Weber Knows Problems Can Be Solved While Having Fun
For the patent-pending TV host, no challenge is too big or too small.
Allie Weber
When Allie Weber was five, she decided to make a robot for her school's science fair. Her parents said no, because well, five is a little young to make a robot. She made a marble run instead. The next year, Weber decided it was time to build a robot, whether or not it was parent-approved. She went downstairs into the basement and came back up with Robie the Robot, a smiling, red humanoid fastened out of recycled materials.
Creating Robie, Weber tells Inverse, came with a realization that "something from my head could come into reality, and that's what really led me to keep making things." She won the first grade since fair, and in turn, her story inspired the creation of the Robot Girl Lottie Doll.
Now Weber is 13, has a patent pending, and is one of the young hosts of MythBusters Jr., a spin-off of the popular debunking program that premiered this January.
This idea that we each have the power to turn our ideas into a physical form and send them out into the world is what draws Weber to the world of invention.
Ultimately, she sees inventions as tools that make life easier and the act of inventing itself as something that's in reach of us all. She's noticed that when potential makers come to her asking for advice on how to get started, they often have the drive — but don't know how to find a problem to solve.
"Most people think 'oh, this is a tiny problem, it's not important, it probably doesn't need innovation' or alternatively, 'this problem is huge, there's no way I can tackle this by myself!'" Weber says. "But I think that if it's a problem you're passionate about, and you have a good solution for it, then that's a good project to work on."
Case in point: the Card-Go Caddy. Weber used to take the bus and found that when she tried to play card games on the bus it didn't work very well. The cards would fly around, she'd lose half the deck; it was a mess. So she invented something to make card playing easier — a folding table with velcro on top complete with containers you could put the cards in. When you're done playing the game, the whole thing folds up.
"So I solved the issue of playing card games on the bus," Weber explains. "And it may not seem like a bunch of people have that issue, but I did and doing this sure made my life easier."
Weber's YouTube channel, Tech-nic-Allie Speaking, is filled with her inventions she's created from her home in Sioux Falls, South Dakota: There's the "bublons machine," an "eco-friendly" dollhouse, and a backpack made from a binder (because her school doesn't allow backpacks and carrying a binder around is awkward).
She likes it best when an invention can be checked off as both fun and necessary. Weber explains that "some of the time people try to focus on these huge problems when really it's a combination of a bunch of little things that might lead up to the big solution."
That theory leads us to Weber's other group of inventions — the ones that are more than just fun, they are the stepping stones towards making a big problem a bit more palatable while still being fun.
Right now, she's working on a project that hits home with other young scientists: A reusable trifold display board to replace the heap of cardboard displays that pile up at each science fair.
She also just wrapped up a project with classmates called Healthy Homies, a prototype for an app that teaches kids four to eight how to make healthy lifestyle choices.
In South Dakota, childhood obesity has quadrupled in adolescents over the last 30 years; the team figured that if they could help younger kids learn healthy habits, they could help stop the issue of obesity before it rooted.
Weber has a track record here with inventions that sincerely do good. In 2016, she won the Global Spark Lab InvenIt Challenge with the Frost Stopper — a glove that keeps track of the temperature outside and alerts the wearer when they're in danger of getting frostbite.
Weber invented that after getting a bit of frostbite on her pinky. In 2017, she ended up as a top ten finalist at the Discovery Education 3M after creating the Blow-Dart Spirometer.
The lung function of a child respiratory patient can be evaluated up to 12 times a day — Weber's invention allows for that to happen, while the kid gets to feel like they are playing with a blow dart.
While Weber is barely a teen, she has been inventing for the better part of the last six years. And during that time, she's also learned that something that many scientists double her age haven't quite figured out: That it's not enough to just invent something, you have to be able to communicate about it. That communication opens a necessary channel of exchange with other inventors.
Weber excels as a communicator on both Mythbusters Jr. and as a vlogger, but she also makes sure to connect with other inventors through workshops, Maker Faires, and a special group called the STEAM Squad. The STEAM Squad is a group of teenage girls that met online and united over their passion for science, technology, arts, and math. Their goal is to inspire and help other young people passionate about STEAM, as well as serve as a soundboard for new ideas. The future is always just one step away, why not work as a group to get there?
"It's really about being able to show people you don't have to be a specific type of person in order to innovate — you don't have to come from any sort of background to create a way to solve a problem," Weber says. "If you can solve a problem, you're an innovator. It's as simple as that."