Darth Is Back: The Only Good Twitter Account Has Emerged From Hibernation
The internet needed a 'W.'
by James Dennin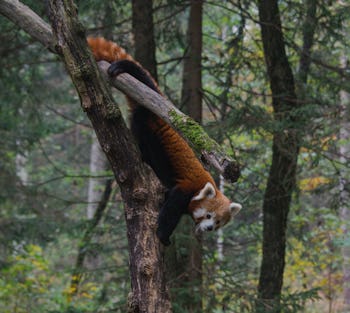 Unsplash / Ales Krivec
2019 is already on track to quickly supplant 2018 as the longest year in history, but our poor internet-broken brains were granted a brief reprieve on Thursday when @darth — arguably the only good anonymous Twitter account — emerged from a brief Twitter hiatus. As expected, after the account announced its return it immediately re-posted the gif of the dogs dancing to Toto's Africa.
Darth began tweeting again at around 9 p.m. Wednesday night, after the account went dormant for a roughly three month break starting on Nov. 7 of last year. Whoever runs the feed has not been particularly active yet, beyond issuing a call for good pup picks that the internet delivered on in short order.
While red pandas do not technically hibernate as their food is mostly available year-round, Darth typically takes a Twitter hiatus at around the same time every year in October or November. While the departure is usually taken pretty hard, Darth always softens the blow with a winter-themed photoshop of Darth with his frens.
If you're not familiar with Darth, the personified red panda is a beloved internet personality. No one is really sure who they are and, as with Dril, people don't even really want to know. We're just glad Darth is back to continue preaching the gospel of cute pups and french fries.