The Only Thing You Need to Make the Perfect Cup of Cold Brew 
Ready to master the art of cold brew? Get ready for this.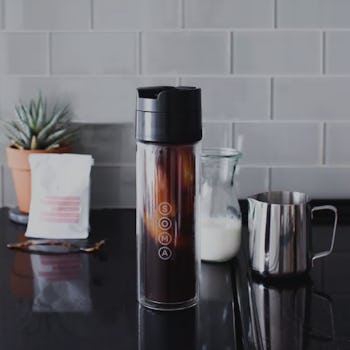 Soma Cold Brew
Caffeine — can't live with it, can't live without it. While tea and coffee fiends alike know the struggle of finding the perfect coffee shop, we all can't forget the hefty price that comes with our morning caffeine fix shop. With that being said, we go ahead and promise ourselves that we're going to find the perfect thermos and save money by making our own coffee but then there's the question of how do we make the perfect cold brew or tea? Your barista has to be the only one who carries the secret of how they master brewing your perfect drink and you'll never know….that is until now.
The Soma Brew Bottle has changed the game and is now going to bring the inner barista out of you. With its three-in-one design, you're able to cover all the bases of your caffeine fix with the option to easily brew pourover coffee, a cold brew, or loose-leaf tea. The Soma Brew Bottle also keeps your beloved beverage at your preferred temperature during your morning commute with its top of the line glass construction and double-walled insulation.
Fear no more of your drink staining your outfit when the subway makes a sudden jerk as this bottle comes equipped with a leak-proof lid that you can stay sippin' on all the whole way to your next stop. Now, it's up to you if you're ready to step up your coffee and tea game. Lucky for you, the Soma Brew Bottle has got that on lock.