This Rugged, High-Tech Watch Is Powered by Your Body's Heat
If it runs out of power, you should probably see a doctor.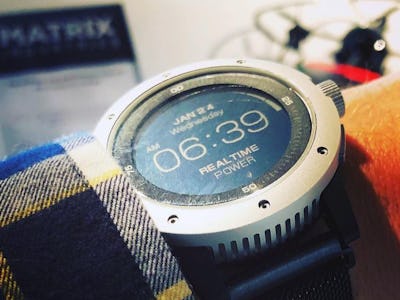 Instagram
One of the biggest downsides of wearable tech is the constant need to stop and recharge. But what if there was a way to eliminate this problem entirely by powering these devices in a more eco-friendly way? The "smart dust" technology developed at Matrix Industries has done just that by creating a wearable device that's powered by body heat alone. They're the market leader in thermoelectric energy efficiency, and the PowerWatch is their breakthrough commercial product. With the creation of the PowerWatch, Matrix Industries has introduced a top-notch smart watch that never needs to be charged.
Since the PowerWatch runs off your body heat, when you remove it, your data is stored digitally, and it goes to sleep. When you put it back on, the watch starts up right where you left off. Plus, it's the only smartwatch to feature a power meter displaying how much electrical power your body generates during use. PowerWatch is also very user friendly, and navigating it is simple. Just press the top and bottom buttons and twist the crown to jump through its various features. Most importantly, PowerWatch is eco friendly. When you're sporting a PowerWatch, you're actively helping the environment. That's because the technology used to make these watches helps reduce ecological damage by eliminating batteries, and therefore mitigates climate change.
So take a look at the various PowerWatch models listed below, and start putting your body's heat to work for you.
The PowerWatch was Matrix's first foray into the smart-watch market. It's powered by your body heat, and it measures calories burned, pulse, activity level, and sleep—using advanced thermoelectric technology. You can keep track of all this data with the free companion app provided by Matrix Industries, which connects to iOS or Android Devices. Plus, PowerWatch is water resistant up to 50 meters and comes with a Military-Grade Nylon Strap.
Like the PowerWatch, the Black Ops model uses thermoelectric technology so your own body acts as a battery. Also like the PowerWatch, the Black Ops version measures calories burned, pulse, activity level, and sleep, which can be monitored through it's iOS or Android compatible app. And it's also water resistant up to 50 meters. But unlike the original, this stylish special edition is all black, and comes with a black Milanese strap.
The PowerWatch X is a tougher build of the original, featuring reinforced bezel for strength, plus a near-indestructible silicone rubber strap. It also offers synced notifications, and is able to explore deeper waters than the first edition, functioning at depths of up to 200m.