One of Crypto's Biggest Security Problems May Have Finally Been Solved
Ledger has unveiled its Nano X.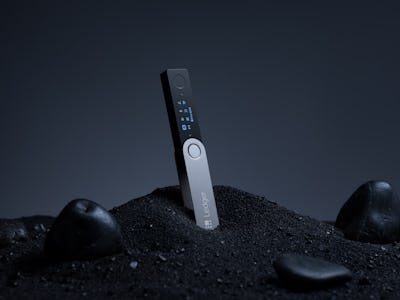 Ledger
Cryptocurrency took a big step forward Sunday, as wallet manufacturer Ledger announced the launch of the Nano X with Bluetooth support for connecting to a smartphone. The device, unveiled at the Consumer Electronics Show in Las Vegas, works with a newly-announced Ledger Live app to manage transactions and on-device apps.
"By unveiling the Nano X, equipped with Bluetooth, Ledger aims to empower its users with immediate secure access to any crypto in any situation," Eric Larchevêque, CEO of Ledger, tells Inverse.
The announcement has the potential to bring secure crypto handling to a broader audience, enabling new use cases without sacrificing safety. Hardware wallets store a user's private keys offline, protecting them against hacks that could hit online wallets and exchanges. Ledger has established itself as one of the most trusted names in the space, with the company's Nano S having sold over 1.5 million units.
The problem is, the market is changing. The Nano S requires users to plug the device into a computer via USB, which is fine for long-term investment but less convenient for day-to-day usage. As Bitcoin's price has plummeted to below $4,000 per coin, far below its December 2017 peak of around $20,000, this sort of buying and holding has become less attractive.
"2018 has been the year of 'hodling,' where investors mostly needed to secure their funds in a static way," Larchevêque says. "The Nano S has been, and will continue to be, the gold standard in security: a resilient hardware wallet that you keep in a safe place at home or at your office. In 2019, with the advent of new protocols and scalability, we need to set the grounds for security and usability."
Alongside Bluetooth capability, the Nano X will be able to store up to 100 crypto assets, six times more than the Nano S, with support for over 1,100 cryptocurrencies. It will also support a larger screen and an altered user interface. Unlike the Nano S that uses Micro-USB, the Nano X will use USB-C. The device won the Consumer Electronics Show's Innovation Award in Cyber Security and Personal Privacy.
"The key to success relies not only on the superior UX of the Nano X and deep integration with the Ledger Live mobile edition, but also on the vision of an open platform, inviting third party developers to add support to new protocols, cryptos and use cases," Larchevêque says.
The Nano X will go on pre-order for $119 including shipping from January 7, with shipments expected in March. The team plans to launch the Ledger Live app, which will enable real-time device management, for iOS and Android devices on January 28. The app will also enable Nano S users to check their balance, but in read-only mode.
"The combination of a highly secure chip (directly interfaced to the screen/buttons), open source applications and USB-C/Bluetooth transport, paves the way to better usability and higher adoption," Larchevêque says.
The author of this story has a stake in bitcoin and Ethereum.