Arby's Makes a Dumb Sandwich for Jon Stewart
Will the #JonVoyage ever end?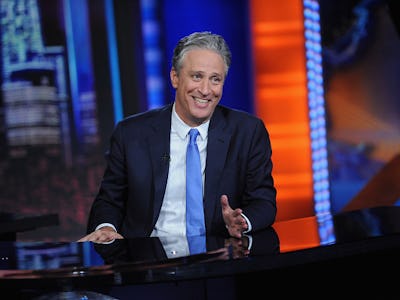 Brad Barket/Getty Images for Comedy Central
Jon Stewart hosted his final episode of The Daily Show last Thursday. The hour-long episode was filled with sentimental, drawn-out goodbyes from friends, colleagues, and foes. Stewart, of course, rarely held back and had some frequent easy targets. Politically, there was Dick Cheney. Elsewhere, he took a big ol' shit all over Arby's, which was gracious enough to bid him a fond farewell.
Because companies like to leave life's sweeter moments pure, untouched, and free of promotion, Arby's did what it felt was right: make a sandwich for Jon that it will sell for profit.
"The Daily Deli," Brand Eating reports, is a double serving of corned beef with deli mustard on marble rye. It's apparently on the restaurant's secret menu because secrets are best shared with 180,316 YouTube views.
For its 16-year run, The Daily Show was an institution. Americans could count on Stewart to call out government officials, corporations, or whoever else made an ass of themselves publicly. But even the most die-hard Stewart fan could tell you it wasn't the same by the end. The show was exhausted. He looked tired. Still, the #JonVoyage has been running full speed for the past couple weeks and appears like it'll keep going a bit longer. It's not that Stewart doesn't deserve the acclaim – he does – but maybe we should let him ride quietly off into the New Jersey sunset, as he would like, instead of inhaling cholesterol in his honor.