Instagram Accidentally Turned Its Feed on Its Head and Users Weren't Pleased
The app briefly but drastically changed on Thursday.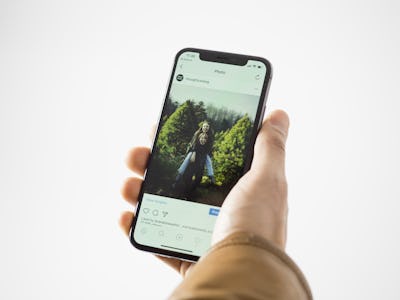 Unsplash / Thought Catalog
If you were forced to tap the right of your phone screen to scroll through Instagram on Thursday, you weren't dreaming. According to the Facebook-owned social media platform, it was in the midst of testing horizontal-scrolling for its feed when it accidentally rolled out the prototype update to a large portion of its one-billion global users.
"Due to a bug, some users saw a change to the way their feed appears today. We quickly fixed the issue and feed is back to normal," an Instagram spokesperson tells Inverse.
This so-called bug resulted in users having to browse the picture-centric app like they would Tinder, swiping right or left. The change has since been rolled back, but not after a largely negative outcry from Instagrammers.
Instagram's vertically navigable feed has been untouched since the app's debut in 2010. However, the company has been publicly and quietly dabbling with the idea of horizontal scrolling.
The app introduced Instagram Stories in 2016, which require users to tap or swipe left to move forward. And TechCrunch reported in October that the company was testing a tap-to-advance feature for its Explore tab, meaning a horizontally-scrolling home feed isn't that outlandish of an idea.
So what does this mean for the popular social media platform's future?
Will Instagram Eventually Go Horizontal?
While Instagram's Head of Product, Adam Mosseri, downplayed this momentary change on Twitter Thursday by calling it a "very small test [that] went broader than we anticipated" Instagram's future could be horizontal.
The user interface that was screen captured and recorded across the internet was notably polished. It essentially turned the standard Instagram feed into a never-ending Instagram story, complete with its own scrolling bar at the top. Each post acts like a standalone panel where users can scroll down to access the comments section.
It didn't seem like a test case that a few developers threw together. It was a cohesive update with a title card that explained how to use it. This could suggest that Instagram is putting the finishing touches on its tap-to-advance feature before it officially releases it sometime in the future. Though it remains to be seen if it will happen after the critical responses the "bug" garnered on Thursday.
An Instagram spokesperson neither confirmed or denied the possibility of a horizontal feed update in 2019.
Why Horizontal Navigation?
It's too early to say exactly how Instagram could leverage horizontal navigation in its favor or to improve the user experience. But what was seen on Thursday could make advertisements more annoying.
Instead of being able to slowly scroll down to see who the next post is from, users were forced to fill their smartphone screen with whatever the Instagram algorithm had lined up for them. It was identical to how an ad is inserted between two Instagram Stories when you tap through them
This system could place ads more front-and-center and make it so users can't skip an ad before a certain amount of time, like a five-second advert on YouTube. This was not seen on Thursday's update, but could easily be implemented with a few minor tweaks.
What Do The Users Have To Say About It?
All-in-all the accidental update was received poorly. Musicians, brands, TV stars, YouTubers, and everyday Instagram enthusiasts took to Twitter to express how shook they were by this brief update. Even Hot Pockets did Instagram dirty.
I guess the lesson here is, if it ain't broke don't fix it. But it's seeming more and more likely that Instagram is going to try to anyway.