New 'Assassin's Creed Syndicate' Walkthrough Shows Off Industrial London
Ubisoft takes on the Big Smoke.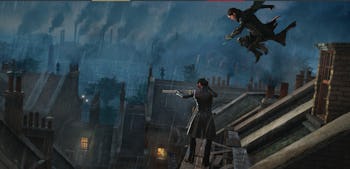 assassinscreed.ubi.com
Ubisoft just dropped two little gems from Gamescom in Germany. Besides a brand new trailer, the game developer debuted a sufficiently epic 10-minute walkthrough of its new game Assassin's Creed Syndicate, which you can watch below.
In the game, you play as Jacob and Evie Frye, two cloaked assassins trying to take over the criminal underworld of 19th-century London during the Industrial Revolution. The walkthrough shows Evie as she tries to stealthily infiltrate the iconic Tower of London to assassinate a character named Lucy Thorne, a member of the shadowy Knights Templar, the big baddies who pull the strings behind the scenes.
This installment of the popular series looks to add to the historically-based context of the previous entries and will make for a good primer before the Michael Fassbender-led film adaptation bows in December of next year.