Who Will Win Packers at Bears? A.I. Predicts Rodgers vs. Trubisky
A hive-mind of 29 NFL experts makes its prediction for this Week 15 match-up.
by T.E. Andrews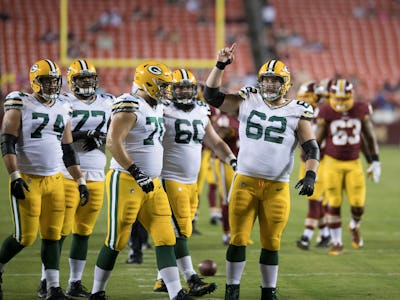 Flickr / Keith Allison
Are the Bears for real? Two weeks ago, Chicago was 8-3, having racked up wins by preying on the bad teams on its schedule. The naysayers pointed out that da Bears hadn't beaten anyone good, then they went out and got upset in overtime by the pathetic New York Giants.
The narrative remained the same until last week, when Chicago managed to add a signature win to its resume by knocking off the Rams in a 15-6 rock fight of a game that only a defensive coordinator could love. The warriors from the Windy City even managed to score a fat-man big guy touchdown (if you're reading this, Bradley Sowell, don't shove me into locker), which only feels right for a city that runs on bratwurst and deep-dish pizza.
As all-universe linebacker and holy terror Khalil Mack said after the game, "When you come in our house, it's gonna be a tough one." No kidding. The Mack Truck racked up three tackles and a sack, while the rest of the Bears' defense picked up four (!!!!) interceptions against Jared Goff, the triggerman of a top-3 offense in Da League.
Chicago is now 9-4 and cresting as the playoffs approach, having won six of its last seven games. Green Bay is now 5-7-1 and closing out a forgettable season. We knew the Bears were good, but are they Super? Two weeks ago, we'd have said absolutely not. After last week, we're not so sure. Either way, have we learned from our mistake in picking against the Bears' defense? Yes, yes we have. Bears 24, Packers 21 is my prediction, but how does a hive-mind of NFL experts see this game ending up?
To predict the result of this Week 15 match-up, Unanimous A.I. used what's known as swarm intelligence. A "swarm" of 29 NFL enthusiasts worked together as a hive mind to make their prediction. As you can see in the animation below, each participant controlled a golden magnet and used it to drag the puck toward the result they thought was the most likely outcome. This is where it gets interesting: As a user sees the puck move toward a particular decision, it triggers a psychological response. They might readjust their thinking as the group builds toward a consensus. It's an artificial intelligence, produced by human brains, working together as a swarm.
The swarm has high confidence that the Bears will win at home on Sunday against the Packers.
The Packers play at the Bears at 1 p.m. Eastern Sunday on Fox.
Here's how Unanimous A.I. has predicted previous NFL games this season.
Unanimous A.I. has made some scarily accurate predictions in the past using swarm intelligence, as our this article explains. For instance, the swarm picked this year's Oscar winners with 94 percent accuracy. Here's Unanimous A.I. founder Louis Rosenberg explaining swarm intelligence at a recent TEDx Talk: