Rams vs. Bears: Preview and Prediction for Big NFC Match-Up
A "swarm" of 29 NFL enthusiasts worked together as a hive mind to make their prediction.
by T.E. Andrews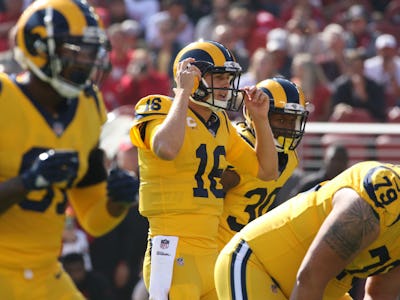 Corey Silvia/Icon Sportswire
Having already clinched the NFC West division title, the Rams bound north for a matchup with the Bears in the Windy City during this week's edition of Sunday Night Football. At 11-1, Los Angeles has head-butted virtually every time it has played to date, with the lone blemish on its schedule coming at the hands of the Saints. Now that New Orleans has lost another game, dropping its record to 10-2, the Rams find themselves with the best record in the NFL and alone in the race for the No. 1 seed in the NFC playoff bracket.
Plenty has been said and written about the Rams' offense, so we will instead highlight the one-man wrecking crew in the heart of Los Angeles' defensive line: Aaron Donald. Simply put, two men cannot block Aaron Donald, which is a terrifying thought for offenses everywhere. That's more than 700 pounds of Grade-A American beef, and the Lions were still powerless to stop Donald's rampage. Aaron Donald's response to would-be blockers is literally, "You and what army?"
Bears right guard Bobby Massie – the unfortunate soul tasked with stopped Mr. Donald – had this to say about his matchup with the NFL's leading sack artist: "You just have to get your hands on Donald. I'm not taking nothing away from him, but he's not God. He's been blocked before. He can be blocked." Are you sure about that, Bobby?
Massie then went on to correct the record, stating, "He's an animal, and from the three-technique? He's a dog." Aaron Donald may not be capital-g God, but perhaps another deity, with the head of a canine. Call him Anubis, the Egyptian god tasked with escorting departed souls into the afterlife. Wikipedia!
Regardless of Mr. Massie's beliefs, some words of advice for Bears quarterback Mitch Trubisky: Don't be a hero, son. Chuck and duck, and live to fight another day. Vegas favors the Rams by only 3 points. That seems too low, especially given how da Bears lost to the lowly Giants in overtime last week. Chicago may be 8-4 and in first place in the NFC North, but it has gotten there primarily by beating the teams it should have. Rams 31, Bears 23 is my prediction, but how does a hive-mind of NFL experts see this one turning out?
To predict the result of this Week 14 match-up, Unanimous A.I. used what's known as swarm intelligence. A "swarm" of 29 NFL enthusiasts worked together as a hive mind to make their prediction. As you can see in the animation below, each participant controlled a golden magnet and used it to drag the puck toward the result they thought was the most likely outcome. This is where it gets interesting: As a user sees the puck move toward a particular decision, it triggers a psychological response. They might readjust their thinking as the group builds toward a consensus. It's an artificial intelligence, produced by human brains, working together as a swarm.
The swarm has low confidence the Rams will win in Chicago.
The Rams play at the Bears at 8:20 p.m. Eastern Sunday on NBC.
Here's how Unanimous A.I. has predicted previous NFL games this season.
Unanimous A.I. has made some scarily accurate predictions in the past using swarm intelligence, as our this article explains. For instance, the swarm picked this year's Oscar winners with 94 percent accuracy. Here's Unanimous A.I. founder Louis Rosenberg explaining swarm intelligence at a recent TEDx Talk: