Steph Curry Called Out by Educators for Spreading Moon Landing Conspiracy
"It could be anywhere from half to 75% of my class believing whatever he says."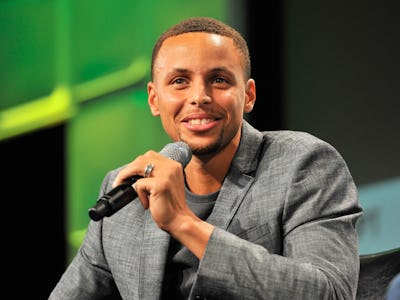 Flickr / TechCrunch
Golden State Warriors golden boy Steph Curry has 23.1 million Instagram followers and 12.9 million on Twitter, which is to say that a lot of people track his every move. This is problematic because Curry occasionally spreads false information, like he did when he said he didn't believe that the United States had landed on the moon on a popular podcast this week. An ultra-famous moon landing truther is the last thing that America's science teachers, who are still contending with the NBA's obsession with the Flat Earth movement, need to deal with.
Nick Gurol, a science teacher at St. James School in north Philadelphia, made national headlines in 2017 as the educator who raised concerns about Boston Celtics star Kyrie Irving's relentless support for the Flat Earth movement. "How have I failed these kids so badly they think the Earth is flat just because a basketball player says it?" he asked NPR. Now, Gurol is bracing himself for a similar sweep of conspiracy thinking among his students, thanks to Curry's controversial comment.
"It could be anywhere from half to 75% of my class believing whatever he says.
"When someone like that, a superstar athlete, says it, anybody that follows basketball will believe whatever he has to say," Gurol tells Inverse. "That's mostly the young men in my class, and also plenty of the girls too. It could be anywhere from half to 75% of my class believing whatever he says."
On Twitter, science teachers across America responded to Curry's statements. "You are a huge role model for kids. You just made the job of all science teachers a lot harder," said Dave Kent, one high school physics and math teacher. "I would be more than happy to take you to @NASA_Johnson and help you learn more about the moon landing and space exploration," said @camandab, a science teacher in Houston.
Gurol's class of middle schoolers had not yet heard about Curry's statement by Monday night, but it is bound to happen. Even NASA is involved now. In a New York Times interview, NASA spokesman Allard Beutel said: "We'd love for Mr. Curry to tour the lunar lab at our Johnson Space Center in Houston, perhaps the next time the Warriors are in town to play the Rockets… We have hundreds of pounds of moon rocks stored there, and the Apollo mission control."
Even though NASA has put 12 astronauts on the moon and has plans to do it again very soon, it might take more than just moon memorabilia to convince Curry. On the podcast, called Winging It, he asks: "We ever been to the moon?" When the other NBA players in the conversation agree, Curry adds: "They're going to come get us. Sorry, I don't want to start conspiracies."
When theories like this spread, Gurol worries for kids who have what he calls the "conspiracy mind." While he's seen students who toy with these ideas just because they're controversial, the conspiracy-minded kids actually believe it. "Those are the ones that I feel like the education system's failed them if they're able to so easily believe just whatever is said by popular people without doing their own research."
Educators, says Gurol, must sure students are prepared to discern fact from fiction, echoing what University of Pennsylvania education professor (and Gurol's former teacher) Susan Yoon, Ph.D., told NPR: Teachers must equip students to think and deduce like scientists.
A lot of what he has to do is address misconceptions, Gurol explains, "because misconceptions can snowball into conspiracy, I think, would be a good way to put it." In the case of the moon landing, it comes down to learning how to dismantle the pseudoscientific arguments that conspiracy theorists make. Teaching kids about wind and gravity on the moon versus Earth, for example, or that lunar dust scatters differently, is the best he can do to help them think critically about these kinds of arguments.
While it's easy to criticize high-profile stars like Curry and Irving for popularizing these conspiracies, Gurol admits that the real issue is that kids are simply not educated properly. "One thing our education system does pretty poorly in science is that it's just boring, he says. "Kids are just starved for entertainment, and when an entertaining person says something that will rile up the teacher, of course they're going to latch onto it."
"At the very least, if they're that passionate about getting in an argument with me, that's great.
As fake news abounds and celebrities and politicians alike increasingly question the authority of science, it's all the more important that future generations are prepared to think critically about the information presented to them. With that in mind, Gurol, who wishes Curry would do a show with Bill Nye instead, thinks situations like these can be turned into teaching moments.
"Here's a little more optimistic take: The fact that they're thinking about science, even if it's completely wrong, that's better than a large number of the stuff that they're seeing online," he says. "At the very least, if they're that passionate about getting in an argument with me, that's great."