American WWII G.I.'s Wallet Completes 70-Year Journey Back to Its Owner
There is no time limit on returning a lost item.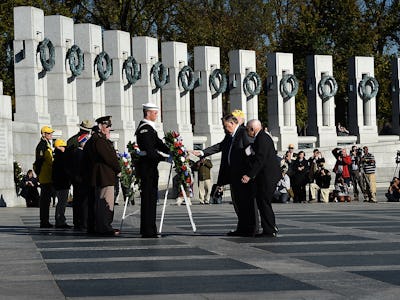 Win McNamee, Getty Images 
It's easy to misplace things. Lose a remote in a couch, forget a phone in a bar — typically, once these are lost, a frantic search ensues and most of the time, one hopes, the situation is put right. But lose a wallet in the middle of a war in a country an ocean away from your home, that's a bigger stretch.
AFP reports that World War II veteran Eligio Ramos, a Texan who fought in Austria, lost a wallet back in 1945. MUCH MUCH MUCH LATER a man named Josef Ruckhofer discovered the wallet in a farmhouse and went about attempting to contact Ramos. Defying the near-impossible odds, Ruckhofer was able to reach Ramos' son and confirm this was the same Eligio Ramos. The old G.I., the last survivor from his battalion, has been hospitalized and hasn't yet spoken with Ruckhofer. Considering how far this connection has already come, we'll assume that last step is on its way.