All the Biggest Changes to the 'Fortnite' Season 7 Map
Everything you need to know.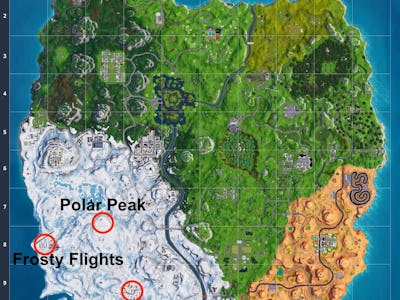 Epic Games
Every new season of Fortnite: Battle Royale means significant changes to the map, and Fortnite Season 7 is no exception. The island is now covered in snow and features a bunch of new areas to explore and objects to interact with. Here's everything you need to know.
As you can see on the map below, the bottom left corner of the Fortnite map has been covered in ice in Season 7 (though the desert biome is still going strong). So you can expect most of the new areas to be in that icy zone, which is officially titled the Iceberg biome.
Other new wintery locations include Frosty Flights (where some of the game's new airplanes are being stored), Polar Peak (an icy mountain), and Happy Hamlet (a wintery town). Epic Games also notes that there are plenty of other smaller, unnamed locations on the map in Fortnite Season 7.
Another big change is the addition of icy surfaces. You'll slide across these as if you were ice skating, which is both fun and could add an interesting new dimension to the game's already unwieldy combat. Across the map, you'll also find new ziplines, which can quickly pull you either down or up a mountain with the power of magnets, and keep an eye out for
Fortnite's biggest change, however, may be the addition of the X-4 Stormwing Plane. These new fighter planes have room for an entire squad of players and come with a built-in machine gun. So keep an eye out for any planes and try to take advantage of one before Epic nerfs this overpowered new vehicle.
Finally, there are tons of small changes across the entire map. Leaky Lake has apparently reverted to its original title of Loot Lake. Flush Factory and Greasy Grove also seem to be gone, and the Architect's House has been revamped. Additionally, the two houses by Risky Reels have become a small farm with an airstrip.
We'll update this post with any more map changes we find for Fortnite Season 7. So check back soon.
Related video: 'Fortnite' Video Reveals New Battle Pass Items