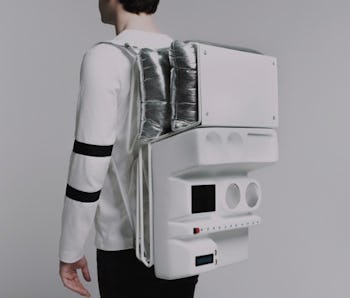 Innovation
The Future of the Picnic Has Arrived and It Is Technopicnic
Without compromising the natural experience. 
Atelier Teratoma via Fubiz.net
The word "Technopicnic" might enrage the Birkenstocked. The picnic, in the popular imagination anyway, has long been an escape from technology and daily life. Why can't we just leave the gadgets at home and enjoy a nice sunburn?
The Technopicnic is a new backpack (still in prototype), designed by Eugenio Fernandez and Victor Nouman of Atelier Teratoma, meant to bring the great indoors to the great outdoors. It contains a portable table, cupholders, cushions, speakers, lights, a screen, and USB hubs, according to Gapyear.com. Fernandez and Nouman say that these are the types of necessities befitting an astronaut, and that they are meant to relocate the ideal picnic setting to "the epicentre of the city — the square."
At first glance, the idea seems ridiculous. Just enjoy the damn picnic! But it's really a pretty good idea. People bring chairs to beaches; the cushions minimize has to lugged around. Friends run late and phones lose charge; the USB ports will help people stay in touch. There's no virtue in discomfort for the sake of discomfort.
The Technopicnic is a great example of when technology sounds much scarier than it is. The sleek space age photos are a little jarring when we're used to checkerboard picnic blankets, but that sensation is ultimately just aesthetics. Packaged up in one neat pack, the improvements are actually quite subtle but nonetheless helpful.