CVS Health's Cigarette Ban Cost the Chain Billions
The company learned the moral choice isn't always the most lucrative.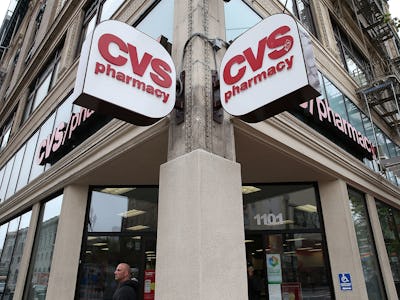 Getty Images
It's been nearly a year since CVS became the first American pharmacy chain to stop selling tobacco products in its stores, which was a bold and honorable move. Now a report is showing just how much being noble cost them.
While prescriptions sales at the chain continue to rise at a rate of 4 percent as Americans keep spending money on health care, the tobacco ban gave the pharmacy an 8% hit for last quarter on a store to store basis, proving that their initial estimate when the ban was announced could cost them $2 billion dollars in losses or more. That's still a drop in the pond of the company's $139 billion annual sales, but that doesn't mean it isn't significant.
The numbers still show some seemingly contradictory results. Front-end figures on the sales would have been flat compared to previous years if the stores hadn't pulled tobacco products, yet they saw an initial profitability by dumping cigarettes because these products had such small sales margins. The real area that hurt the company the most was sales on front-end impulse items that smokers normally grab before making purchases since they're usually fiending for tobacco and whatever else they can get their hands on.
To beef up the lost revenue, CVS says it will now focus more on selling profitable items like beauty products.
It's not everyday a huge corporation does the right thing by choosing to be a health services provider, and it's not everyday that a huge corporation literally puts its money (or lack therof) where its mouth is. Good on CVS for blazing that trail even though the decision isn't paying off in the short term, though that challenge isn't a surprise. During the initial announcement, executives knew that they would immediately lose money but hoped that they would see long term growth.
CVS' ban goes beyond a simple brand image by literally making Americans healthier; it just cost them a lot in return. Sometimes doing the right thing isn't the most lucrative thing, but let's hope the cigarette slump won't have a hand in sinking the pharmacy for good.