The Number One At-Home DNA Test Is 50 Percent Off Today.
AncestryDNA is less than $50 for Cyber Monday.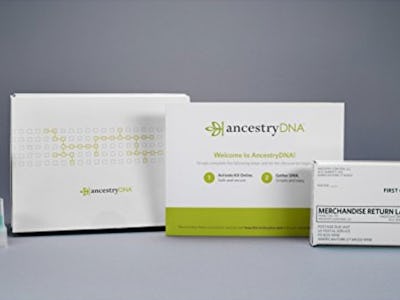 Remember the stories of all those white supremacists getting super mad at Thanksgiving by finding out they have Spanish ancestors, or Central American blood coursing through their stupid veins? Well, now that can be you in a less high-stakes, hopefully calmer way. AncestryDNA, which can estimate your origins to more than 350 countries, and show you your recent family immigration history and heritage.
AncestryDNA promises two times more geographical history than any other test. Who knows! Maybe you'll unearth some close Italian roots and start a new hobby making bolognese just like Nonna used to. Maybe you'll find out you're part Norwegian and use it as an excuse to visit one of the most beautiful countries in the world (just bring a coat). Maybe you'll find out you're part Nativa American and get more into the recent history of reservations, and discover to where your ancestors were displaced. Also, if that's the case, please don't go around calling yourself like, 6 percent Navajo or something. Nobody likes that.
Normally $100, AncestryDNA is on sale for Cyber Monday for just $49.00. A steal for a product that helps you understand yourself more, and that expands your world.