The Best iPhone Accessories Available for Crazy Low Prices This Holiday
This bundle includes a Qi charger, Bluetooth earbuds and a 10-ft long cable.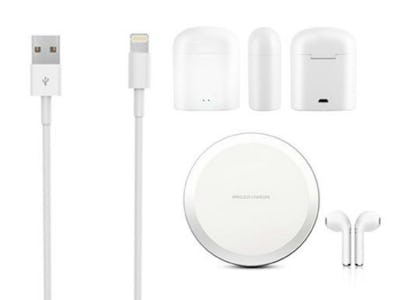 Inverse Shop
The Details:
Make the most of your iPhone with this discounted accessory package deal.
Stop pulling out your sync cable on accident with a 10-ft extra.
Get wireless power with the included Qi charger.
Listen hands-free with high-quality Bluetooth earbuds, plus recharge on the go up to ten times with the included case.
Why You Want It: The iPhone is a great device, but it's made even better by the right accessories. If you want to get the most out of it, this bundle gives you an extra wireless Qi charger, a 10-ft charging cable, as well as a pair of wireless earbuds for a collective price that's way less than what it would be if you added them up individually.
The Deal: Get an extra 20% off the already crazy 73%-off price of $34.99 right now at the Inverse Shop when you use the coupon code CMSAVE20 at checkout.
The iPhone Accessory Bundle - $34.99
Related video: What Listening to Music Does to Your Brain