Get One of the Best VPNs Right Now for Crazy Cheap
Windscribe has slashed its price by nearly 90 percent.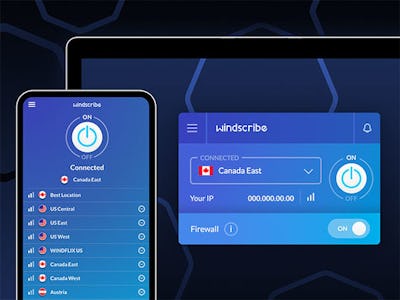 A VPN is an essential tool for modern browsing, but they don't come cheap. Staying safe, anonymous, and secure online has never been more important, so you need a VPN provider that can guarantee these things. That's why the new deal from Windscribe VPN Pro, one of the most popular in the world right now (it even includes a free browser extension so you can use Netflix, something other VPNs struggle to offer), is something you'll want to snap up before it sells out.
Windscribe is much more than a VPN. It's a desktop application and browser extension that work in conjunction to protect your online privacy, unblock websites, and remove ads and trackers from your everyday browsing. With Windscribe, you'll never mess with confusing settings and options menus again; just turn it on on your desktop once, and it's good to go in the background forever.
One of the biggest benefits of choosing Windscribe's service is that it provides unlimited downloads and unlimited simultaneous connections. You'll find that most VPNs limit you to a maximum of five devices (if that), making Windscribe's offering the easy choice for owners of multiple devices and small businesses alike. Windscribe adheres to a a strict no-logging policy and anonymous sign-up that doesn't even require as much as an email address.
A subscription to Windscribe Pro is just $12 right now, down from $19, down from $108.00. It doesn't get much better than that.