The Ultimate Gift for 2018 Is the Weighted Blanket
We've got our favorite weighted blanket on sale to promote better sleep and relaxation.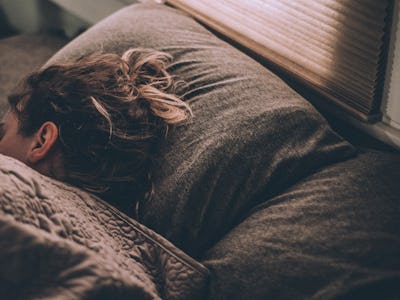 Unsplash / Gregory Pappas
There's nothing worse than struggling to fall asleep or stay asleep — and the usual remedies don't always help like they're supposed to. Now, weighted blankets are the new in thing for people with sleep and relaxation issues at the end of a long day. In case you haven't been paying attention, weighted blankets are everywhere this year. They're the hyper-popular gift for anyone, including yourself, that promote better sleep and relaxation.
The idea behind a weighted blanket is this: A blanket with extra heft creates a "hugging" effect, releasing the hormone oxytocin, itself increasing serotonin and melatonin levels. Our favorite weighted blanket, the Serenity Blanket, is on sale at the inverse store now.
At 15 pounds, the Serenity blanket is perfect for just about anybody who wants a natural and permanent way to help their sleep and stress levels. The serenity Blanket is made of premium 100 percent pre-shrunk organic cotton, and its cover is washer and dryer safe.
This, simply put, is the ultimate gift for the holiday season, even if it's you just gifting it to you. Grab a Serenity Weighted Blanket for just $209 at the Inverse store now.