Get an iPad for a Fraction of the Price 
It makes for a powerful on-the-go computer.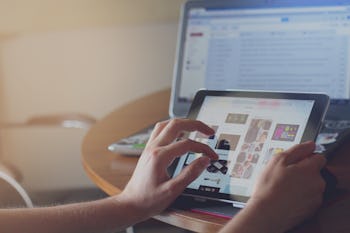 Unsplash / Taras Shypka
The Details:
9.7" Retina display gives you pristine 2048x1536 resolution to whether you're watching films, playing games, reading, or working.
1.4 GHz dual-core processor and 16GB storage make for a powerful on-the-go computer.
Top of the line front and back cameras give you great photographic quality and flexibility, plus you get access to great features like exposure control, face detection & auto HDR.
WiFi, App Store, and Siri equipped.
Why You Want It: Tablets are fantastic for mobile computing, and Apple makes some of the best out there. This is a hi-def Retina model that's been refurbished with care. On top of that, it's on serious discount, giving you a high-resolution display, fast dual-core processor, and 16GB of storage in a super-sleek package that you can take anywhere.
The Deal: Apple gear is generally priced to match its high quality, but this is an exception to the rule. Sporting an MSRP of $649, the Apple iPad 4 9.7" is currently only $169.99 after 73% off at the Inverse Shop.