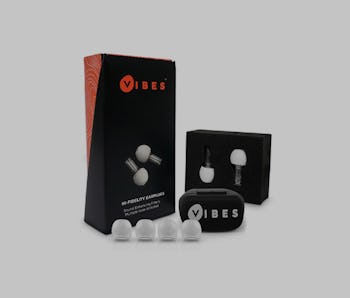 Innovation
Protect Your Ears With These Comfortable Ear Plugs
They provide a listening experience that's more detailed than your naked ears can provide.
Inverse Shop
The Details:
Enjoy concerts and other audio events without damaging your hearing.
Special sound tube construction selectively filters frequencies to provide a listening experience that's actually more detailed & clearer than your naked ears can provide.
Washable ear tips and a durable, comfortable design mean you'll still be using these far down the road.
Minimalist, low-profile, attractive design.
Comes with a handy cord so that you can let them dangle between songs or during other downtimes.
Why You Want It: While your average earplugs use a uniform material to muffle sound, severely distorting it in the process, the Vibes were designed specifically to preserve sound quality while protecting your hearing. This is achieved by the use of specialized tubing which allows the sound waves to reach your ears with clarity in a lower, healthier decibel range.
The Deal: Usually $26.99, you can currently snag these Hi-Fidelity Earplugs for just $19.99 after 25% off at the Inverse Shop—not much considering they could save your hearing while simultaneously improving your listening experience.