Ridley Scott's 'Prometheus 2' Will Happen Eventually
Hopefully we'll get more answers than questions this time.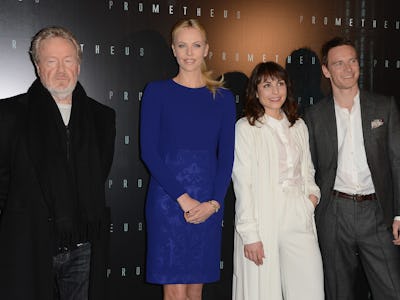 Getty Images
Ridley Scott has been relatively quiet about the follow up to his 2012 sort-of Alien reboot, sort-of prequel, Prometheus, since last year's development announcement. But, as he does the initial rounds to publicize the November release of his next would-be sci-fi classic, The Martian, the director is opening up about the chestburster universe.
Scott revealed in an interview with British movie mag Total Film that the tentatively titled Prometheus 2 will start production in January. Unless Scott owns a time machine or is going really small scale on this one, this makes the previously announced release date of March 4, 2016 impossible.
Officially on board again are Michael Fassbender and Noomi Rapace, who were last seen speeding away from LV-223 in an alien spacecraft to look for the meaning of life at the end of the first movie, but there's no word on any other cast members at this time. Rumors about the plot involve multiple androids, all to be played by Fassbender (which is always a good idea), but nothing has been set in stone just yet.
Also on board are brand new screenwriters Jack Paglen and Michael Green, who take over from previous writers Jon Spaihts and Damon Lindelof. Part of the main reason many people hated Prometheus was that Lindelof's final draft of the script was one giant two-hour tease that never really paid off in a coherent way. Paglen's only screenwriting credit is for the woeful Christopher Nolan rip-off Transcendence. Conversely, Green has been a seasoned sci-fi veteran who previously wrote the Green Lantern movie and is also working on the sequel to Blade Runner, so he's well versed in the Ridleyverse. Let's hope they can come together and give us more answers this time around.