Ikea Buys Its Own Forest, Becomes an Ecosystem
The Swedish company is taking a walk in the woods.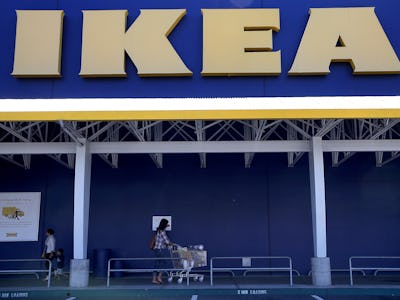 Getty Images
Ikea is looking to run its own operations and beef up its renewable raw materials by buying over 100,000 acres of forest in Romania and the Baltic region. This purchase will mark the first time they'll manage their own commercial forest operations.
The Swedish company has gotten flak in the past for what some see as wonton wooden waste, leading to a ban from logging in Russia earlier this year (it was lifted a month later). The company operates at massive scale. Statistics from 2013 show that Ikea was responsible for using almost 1 percent of the entire world's commercial wood supply, equalling about 17.2 million cubic yards for your Hemnes bookshelf, Brimnes bed frame, and so on.
The story of Ikea slowly depleting all the world's forests is bad PR, so its decision to take control of its supply chain and become an ecosystem unto itself is probably wise. The forest also fits into Ikea's "forest positive" plans, which include doubling the volume of products it sells by 2020 while also gradually cutting prices. To meet these fluctuating goals, Ikea will have to increase its wood usage by 50 percent, which is a bit more manageable when you're dealing with your own lumber.
Ikea may not be led by conservationists — they're a giant business after all — but with the move to buy up the Romanian forest they seem to have found a way to get what they want and maybe leave room to do some good. A properly managed working forest could take some of the heat off forests in Russia while making the company less reliant on people it may not wish to be in business with.