These Oddly Shaped Headphones Will Have You Hooked
They're unlike anything you've ever used before.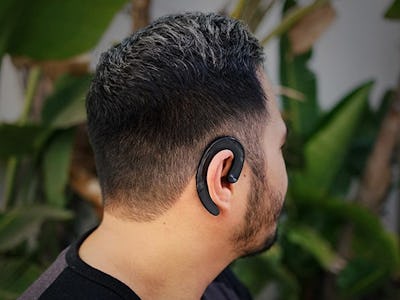 Inverse Shop
Fact: You might look like you're coming straight off of a sci-fi film set when wearing RAWtronics' True Wireless Bone Conduction Earphones. But what's so bad about that?
Though other brands have released bone conducting wireless headphones, this pair of earbuds is truly one of a kind — and not just because of their, well, interesting design. All you have to do is lay them around your ears, instead of inside. The headphones then use bone conduction technology (aka literally the vibrations of the bones in your head) to provide high-quality, distraction-free sound.
Even more, they're super lightweight and ergonomically-designed so you can worry less about the uncomfortable technology falling out of your ears and more about what you feel like listening to at that very moment. These earphones also come with a home button so you can answer or reject calls and play or pause your music, and last for up to six hours on one charge.
If you, or someone on your holiday shopping list, is looking for an affordable Airpods alternative, this is the perfect pair for you. The headphones, which come in black, gold, silver or red, normally retail for $49.99, but today you can get them for just $39.99 after a 20% discount in the Inverse Shop.