You Need More Than an iPhone to Take Great Pictures 
Take your photography game to another level.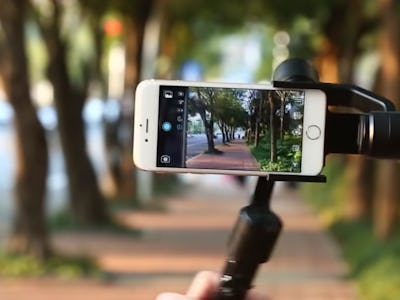 Smartphone photography is God's gift to us for having to put up with the really terrible parts about owning a smartphone, like dozens of un-deletable group threads or that app that tells you you've only taken 38 steps so far today (I'm BUSY!) Now, we've found a cool device to take your mobile photo game to the next level. The Rigiet Smartphone Gimbal makes taking professional grade photo/video easy.
Get beautifully stable shots on the first try with the Rigiet Smartphone Gimbal. This innovative gimbal automatically detects and adjusts to the position that you want to film in, easily switching from portrait to landscape and even underslung modes. Using the intuitive built-in control panel, you can quickly zoom and switch between photo/video modes and front/rear camera perspectives. Plus, if you want to take your filming further, you can connect your device to the Rigiet app and tap into features for auto tracking, livestreaming, panorama shots, and more.
Normally $269.99, you can take more than 50 percent off right now over at the Inverse store and get the Rigiet Gimbal for just $109.99.