Tesla Semi Video Shows Its Incredibly Quiet Design in Action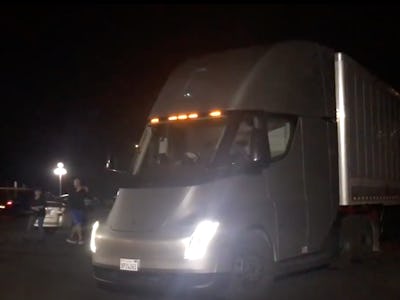 StevenMConroy/YouTube
Tesla has been putting the Semi truck through its paces. A new video last week showed the all-electric vehicle put through its paces en route to San Francisco, the latest in a series of appearances ahead of Tesla's planned release of the truck in the next year.
YouTube user "StevenMConroy" spotted the truck at the Madonna Inn supercharging station on November 2. The five-minute video shows the truck pulling in and parking, but notably at the one-and-a-half minute mark the users open up a cabin to the rear, speculated by XAutoWorld as a potential sleeper cabin. The truck pulls away soon after, carrying a trailer on the rear, with an incredibly quiet whisk away. The truck, which CEO Elon Musk previously described as handling "like a sports car," has an acceleration time of 0 to 60 mph in just 20 seconds with 80,000 pounds of cargo.
See more: Elon Musk Says Tesla Semi Is Crossing the Country With No Support Vehicles
A prototype has gradually made its way across the United States with no support. The truck has still relied on what Musk tongue-in-cheek claimed is a 1,000-foot extension cord to travel long distances. The final version is set to travel either 300 or 500 miles on a single charge depending on the chosen model, with "megachargers" placed every 400 miles providing solar-generated electricity.
The Tesla Semi is set to use power in an efficient manner. It has four independent motors on its rear axles, consuming less than two kilowatt-hours per mile. While it's unclear how large the batteries for each model are, Tesla touts a drag coefficient of 0.36 that helps it glide through the air. The company has moved away somewhat from discussing battery capacities, selling its latest Model 3 vehicle by referring to range rather than storage.
Expect more details about Tesla's next vehicle when it hits the roads next year.