Rowdy Ronda Rousey, Private Jets, and Permanent Obesity: This Week's Odds
The future, by the numbers.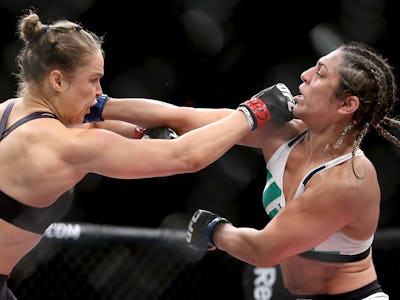 Getty Images
Another week, another round of weird odds to ponder. This week we shed some light on the broader implications of lion poaching, name Ronda Rousey as one of the best fighters on the planet, and show you that sometimes you can will 400-grand on a tiny 50-cent bet. What more could you ask for?
1. Odds You'll Be Hunted and Killed in Zimbabwe If You're a Lion
The world was sent into an uproar over the poaching death of Cecil, a beloved 13-year-old lion who was illegally hunted and killed by a group that included an American dentist who now faces extradition to Zimbabwe. What wasn't immediately clear in the fervor is how commonplace such deaths are. Zimbabwe banned lion hunting in 2005 and resumed it in 2008, steadily increasing the numbers of rhinos, elephants, and lions being killed. It's only getting worse.
Over/under on how many lions are hunted and killed in Zimbabwe per year: 43
2. You Don't Stand a Chance Against Ronda Rousey
Rowdy Ronda put her fist where her mouth is and dropped Brazilian fighter Bethe Correia only 34 seconds into their UFC fight this past weekend. Rousey is now 12-0 in MMA fights and 6-0 in Ultimate Fighting Championship bouts, making her one of the best fighters in the world. Her cobra-fast TKO isn't anything new either. She previously dispatched fighter Cat Zingano in 14 seconds (check out the fight in its entirety here), which is downright scary. Chances are if you're looking across the octagon at Rousey after the bell rings you're not in the best position.
Over/Under on how many seconds it will take Ronda Rousey to knock out a world-class fighter: 136
3. Don't Worry About your Missed Delta Flight, Just Upgrade to a Private Jet
A subsidiary of Delta called Delta Private Jets is about to offer travelers with commercial tickets the chance to fly to their destinations on a private jet instead. This sounds fancy, but before you get visions of popping Dom 35,000 feet in the air just remember, this is Delta we're talking about. The scheme works like this: Out of 50 potential private jet flights per day, usually just over half go empty after traveling to one city and hopping to another to pick up the next filthy rich businessman trying to take over the world. This means Delta isn't making any money, so to make up for that lost dough, passengers headed to the same city as an empty private jet can upgrade to their own mile-high party for anywhere between $300 to $800.
But there's a catch. The upgrade will be offered in a hierarchy structure, first to customers who hold Delta Private Jet Cards, then to four separate tiers of members of Delta's Medallion frequent flier program. The chances of us plebes getting our own jet are fairly slim, but the chances of being a Silver Medallion member (a traveler who flies at least 25,000 miles or takes 30 flight legs this year, and also spends $3,000 on dumb Delta merchandise) are a bit higher, if not still nearly impossible.
Odds you're a Silver Medallion member who can be upgraded to a Delta Private Jet: 1 in 66
4. A Crazy Horse Racing Bet Could Still Pay Off
Just because American Pharoah won the Triple Crown and continues winning doesn't mean there aren't other ponies out there to bet the farm on. A bettor at the Saratoga Race Course put a 50-cent bet on winners of the first five races at upstate New York track this past Saturday and won a payout of $471,124.50. The anonymous bettor was the only ticket out of all bets at the track with the first five winners, so he took the entire pool. What's nuts is that he isn't even the highest payout for what is called a "Pick Five." Last summer, a bettor at Saratoga made off with $595,502 on a measly 50-cent bet. To put that in perspective: Letting that payout ride on the same odds would yield a winning purse of $709.2 billion.
Odds on every horse the bettor chose to win the over $400,000 pot: 11 to 1, 3 to 1, 21 to 1, 24 to 1, and 6 to 1.
5. You'll Never be Able to Lose Weight and Keep It Off
You might as well accept your weight, a new study from the American Journal of Public Health finds. Obese men and women don't have a good chance of shedding pounds and maintaining normal average body weight. Those in the sample who managed to lose at least 5 percent of their weight, more than half gained the weight back within two years.
Odds that an obese man will maintain a normal weight: 1 in 210. Odds that an obese woman will maintain a normal weight: 1 in 124.