Scrap the Airpods, These Wireless Headphones Are a Great Alternative
And you can get them for 62% off right now.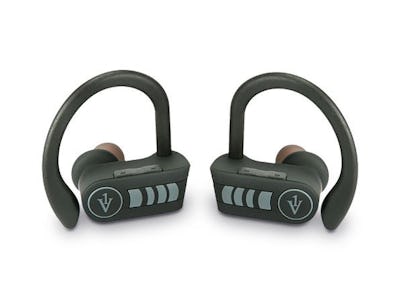 Inverse Shop
There are a lot of wireless earbuds on the market, but not many will last for eight hours on a single charge. With 1VoiceNYC's True Wireless Fitness Bluetooth Headphones, you can listen to podcasts, music, news and more on-the-go without having to worry about finding time to plug them in.
Of course that's not their only distinguishing feature. This pair uses Bluetooth 4.2 technology, has a built-in mic so you can make calls, and comes complete with cVc 6.0 active noise-cancellation for the best possible listening experience. Additionally, they are ergonomically designed for maximum comfort. In other words, you won't find yourself constantly re-adjusting or worrying they might fall out mid-workout, conference call or commute. And last, but definitely not least, the earphones are water resistant.
If all of these innovate aspects haven't convinced you to give the headphones a try, the price might. Currently on sale for 62% off in the Inverse Shop, this pair retails for just $44.99.
To summarize, that's eight (!) hours of listening for under $50 compared to Apple's Airpods which go for over $150 and last for five hours.