Battersea Power Station Could Become a Tesla Coil Art Installation
The sparks could fly -- unless it turns out to be too dangerous.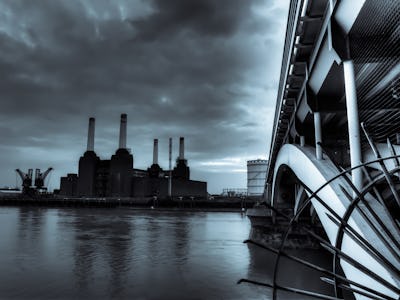 If you don't know Battersea Power Station from being one of London's more prominent coal-fired installations on the River Thames, you might know it as the cover art to Pink Floyd's album "Animals," or as the "Ark of Art" from Children of Men, or from its cameo in Fast & Furious 6, or as a warehouse in The Dark Knight, or from Neil Gaiman's Neverwhere. It is, in short, very famous and, for the moment, fairly empty. That won't last though as it is set to be the centerpiece of a major redevelopment scheme that will see it chopped into apartments and, if the Danish architecture firm Bjarke Ingels Group has its way, turned into the world's largest tesla coil setup.
The idea being floated — and it hasn't been approved by the development group yet — is to create a public park at the base of the monumental building out of Piezoelectric pavement, which uses stress to build up and store electricity, then funnel that energy up and make some human-generated lightning out of it. The coils could strike regularly or on special occasions to celebrate people power's replacement of coal power in the Big Smoke.
To get a sense of how massive this endeavor might be, consider that each of Batterseas tower's is 300 feet tall. At that scale, coils could move more than a few electrons over the sizable space between them. At night, the spectacle would likely be visible from all over the city. The question, of course, is can it be done with a reasonable expectation that no one will die or go all Doctor Manhattan on England. BIG has apparently floated the idea without waiting for approval from their client precisely for this reason: They want scientists and engineers to weigh in on whether or not it can be done and — perhaps more to the point — whether or not it should.
The announcement is good pub gossip fodder, but it also begs a question about what will be done with all the smokestacks stuck into England (and Pennsylvania and Germany and plenty of other places) like so many thumbtacks. Sure, they could be torn down. But perhaps it's better to use them to create a beautiful spectacle. Perhaps they can do more than provide a bit of atmosphere in dystopian sci-fi movie.
Perhaps not.