Ronda Rousey to Play Herself in Movie Adaptation of Autobiography
How can you direct Ronda Rousey?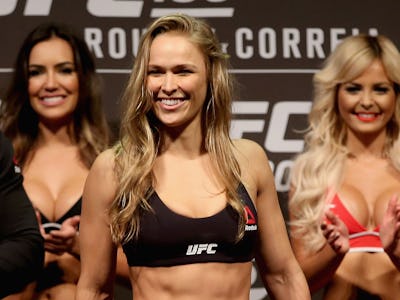 Getty Images
After her 34-second domination over Beth Correia at this past Saturday's UFC 190 in Brazil, UFC Women's Bantamweight Champion Ronda Rousey has locked her next career move in an armbar: playing herself in a movie.
According to Variety, Rousey will portray, uh, Ronda Rousey, in the movie version of My Fight/Your Fight, her autobiography published by Simon & Schuster earlier this year. Paramount Pictures have secured the rights to the New York Times best-seller, and screenwriter Mark Bomback (The Wolverine) has been chosen to pen the script.
A crossover MMA star, Ronda Rousey has steadily transitioned into movies with roles in The Expendables 3, Entourage, and Furious 7, which is now the fifth-highest grossing film of all time.
In other news, the as-of-yet unannounced director has already gained the world's sympathy for having the unfortunate job of telling Ronda Rousey what to do in her own movie.