The Best Mattress Alternatives to Casper and Leesa
You don't need an overpriced and overhyped mattress for a good night's sleep.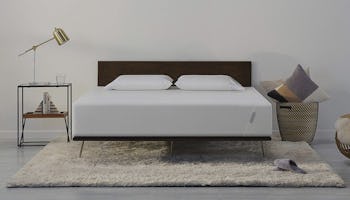 Apart from porn and Russian websites that advertise downloads of movies currently in theaters, mattress companies and reviews make up the vast majority of internet sites. Every week there's a new specialty bedding company promising to have solved sleep forever. A new 100-day trial. A new gel foam vacuum-tested bedbug proof whatever mattress that can also do your homework and save your marriage. The review websites aren't much better, since all of them are more than likely paid off by various mattress companies to elevate certain ones and denigrate others. It's a whole thing.
You don't need an overpriced and overhyped mattress for a good night's sleep. We took a look around on Amazon to find the actually good mattresses that don't need to spend millions of dollars on fancy advertisements to get their point across. Do they feel good to sleep on? Are they not made of a stone that slowly heats up throughout the night like you're a lizard? Do they not cost, like, $2,000. These are the real questions to ask when buying a mattress, and here are our favorites.
In the high-end mattress game, there might not be a better singular option out there than Tuft & Needle, the go-to mattress for all my friends who are 1. More responsible with their money than me and 2. Live with their hot partners. This is a forever bed made of "adaptive foam"m perfect for any kind of sleeper. It's soft but you won't sink into it, and there's a satisfying bounce, too. Maybe the ultimate mattress.
With more than 22,000 reviews on Amazon and an average star rating of 4.1, it's no wonder the Zinus is selling out all over the place. Get one while you can.
Yup, for less than 200 dollars you can get a great, full-size mattress that combines both the benefits of memory foam with the construction of a traditional spring mattress.