Jared Rouben, Brewmaster of Moody Tongue Brewery | JOB HACKS
On how brewing starts with listening.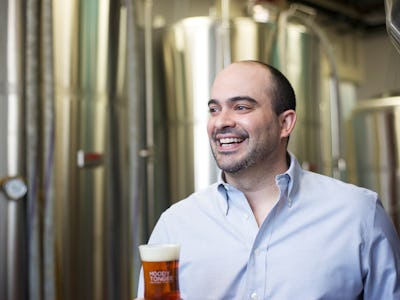 Careers rarely go according to plan. In Job Hacks, we shake down experts for the insights they cultivated on the way to the tops of their field.
Name: Jared Rouben
Original Hometown: Louisville, Kentucky
Job: Brewmaster, Moody Tongue Brewery, in Chicago
How did you get your start?
Before I was brewing, I was into culinary arts. I've always enjoyed beer, but my real inspiration came from cooking. I really saw brewing as an extension of cooking, using raw ingredients and hoping to achieve flavors that please the palate. But now I get to do that while intoxicating people, which is fun. I've been in the business for nine years now.
So, since you had a culinary background but not a business background, were there any bumps in the road when you started?
I partnered up with a business partner with a background in finance. I think the major bump in the road is that there are only 24 hours in a day and you're always trying to prioritize your time. For me, the difficulty with prioritizing time was brewing and also selling it and being an architect, a plumber — wearing many hats. You can't just do one thing. I feel like I'm learning something different every day. You're putting out fires, you're opening doors. Every single day is different. Each day, once you have something in control, one of the other segments of your business might challenge you.
What skills do you need to be a good brewer?
A good brewer is someone who understands balance and understands their customer's palate. To be a great brewer is to be a great listener.
In your professional opinion, why are so many popular beers so shitty?
They have a lot of advertising and marketing dollars that have really helped them. But I'm happy people are drinking beer. And I try to turn my brain off when I'm consuming other establishments beers. When it's my own, I'm always my toughest critic.
What advice would you give to someone who doesn't know much about beer but is looking to dip their toes in?
Order a beer that sounds delicious. Ask your bartender or sommelier and get some advice and direction. The best way to do that is name a beer you've enjoyed in the past.