This Smart Wi-Fi Power Strip Is the Perfect Upgrade for Any Room in Your Home
Meross has made one of the best gadgets we've seen in months.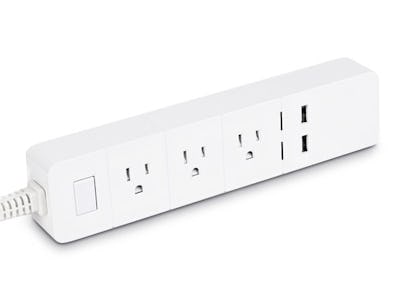 I'm gonna go out on a limb and guess you probably think your house doesn't have enough outlets in it. That's normal. Most houses were built before 1999, when we only really needed to plug in a phone, a computer, a TV, and a VHS player. Those poor creatures. Anyway, times have changed, and your modern home deserves a modern power solution. That solution is the Meross Smart Wi-Fi Power Strip.
With extra USB ports, WiFi connectivity, and smart home support, the Meross Smart Wi-Fi Surge Protector is the next step forward for your charging setup. This innovative surge protector comes equipped with three AC outlets and two USB ports that can be individually controlled from anywhere via the Meross app. You can turn connected devices on and off, set schedules, and activate timer routines, protecting your devices and trimming down your power usage.
With the Meross, you'll be able to Power up to five devices at once. It's the perfect blend of useful and "whoa, cool!"
Get 11% off the Meross Power Strip right now at the Inverse Shop, and never worry about searching for a wall outlet again.