This Weighted Blanket Is the Best Gift You Can Give Yourself
If you're looking for the perfect night's sleep, that is.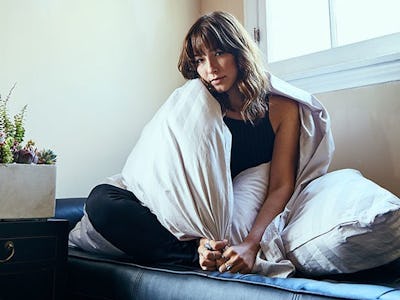 Inverse
It's almost that time of year. You know, the one where droves and droves of people flock to the mall and wait in line after line to find the perfect holiday gift for what feels like everyone they know. And you're probably right there with them. In between the shopping madness, why not treat yo'self and practice some self-care at the same time? Enter Serenity's Weighted Blanket.
If you've been waiting for a product that'll give you the perfect night's sleep, this throw just might be it. The heaviness of the blanket's plant-based resin beads has been proven to reduce stress and anxiety by feeling like a permanent, comforting hug. Think of it as the apron a dentist uses while taking X-rays, but add in some organic cotton and a whole lot of warmth. No amount of melatonin or lavender spritzes will be able to offer this effect.
Serenity's Weighted Blanket is available in 15, 20 and 25 pounds. How to know which to order? The brand recommends opting for one that is 10-20 percent of your body weight so the item can work its calming magic.
So to summarize, with the purchase of this cozy blanket, you'll be buying more than just something to keep you warm at night. You're investing in a more relaxed night of sleep, and who can put a price on that?